Sicilian Eggplant Salad is a melange of summer vegetables in a sweet-tart sauce perfumed with allspice and a hint of curry.  Salad do Sicily, as she called it, comes from my grandmother's sister Violet who lived on the lower east side of Manhattan.  Every summer, my grandmother Nina would fly East to spend a few months with her. I was lucky enough to join her for a few weeks.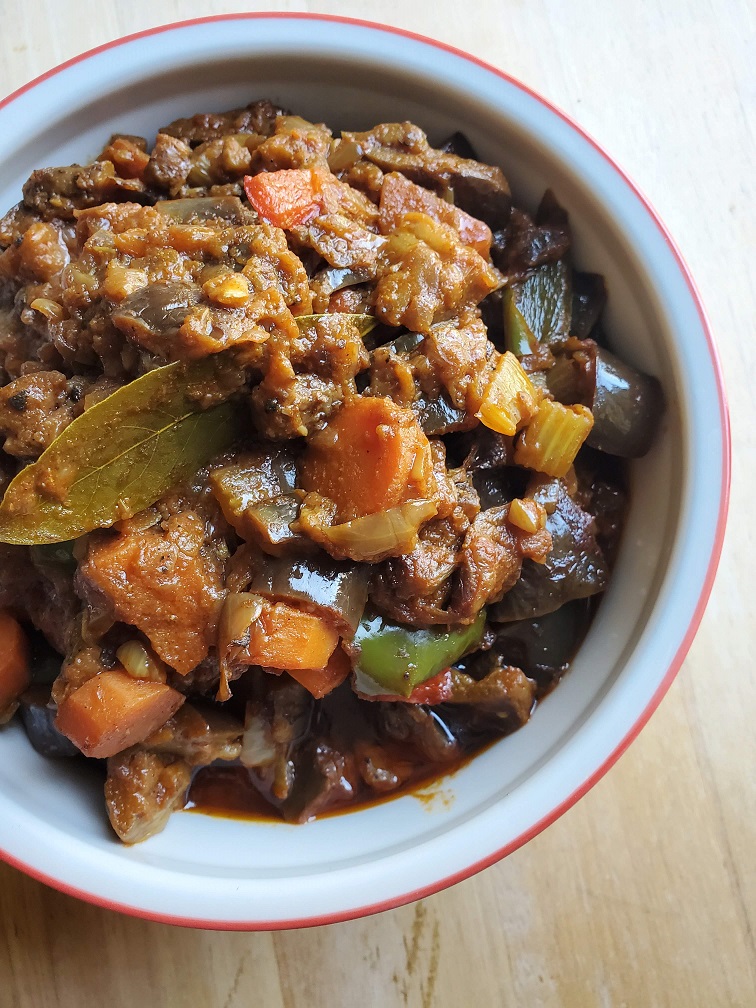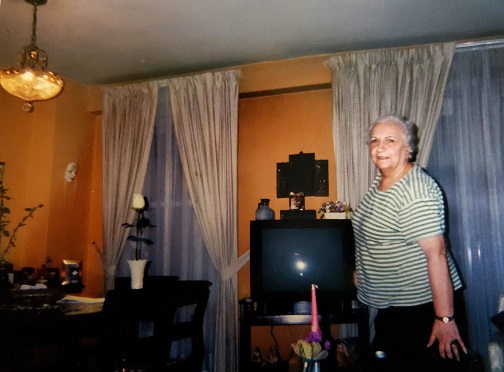 Aunt Violet was remarkably sharp, but retained a vibrant sense of humor. Her memory was like that of no one I've ever known and her analysis of relationships, politics and Nature was phenomenal.
She kept a pristine apartment  with a touch of the Orient. She put her heart into decorating, saying that one's home should smile in one's presence.
Every time Nina Mama and I stayed with her, Aunt Violet would get us a new pair of embroidered Chinese house slippers. This little tradition gave us such a warm welcome.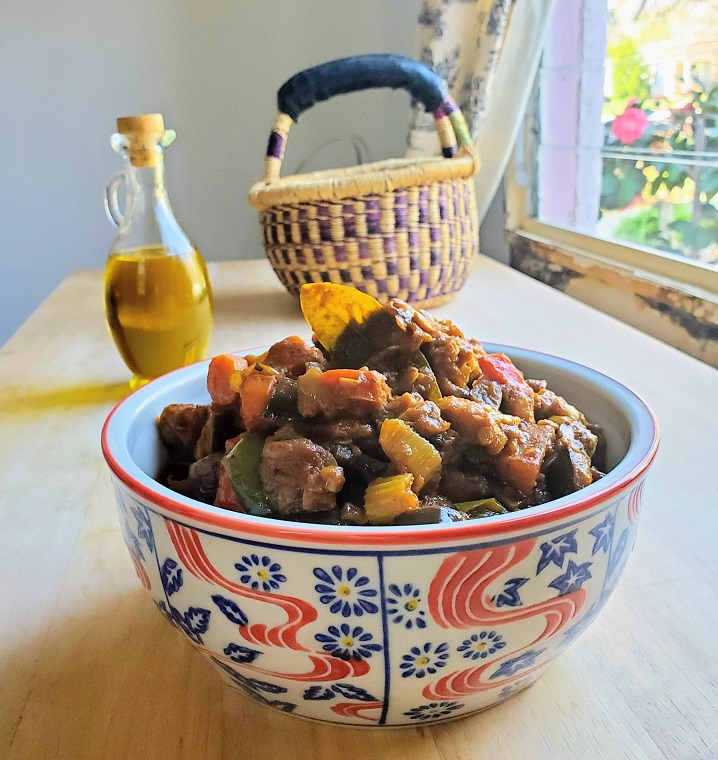 We had a whole routine, starting with a breakfast of freshly brewed tea, feta and fresh bread on the terrace. Then, we would hit the streets. Favorite stops were boutiques on Madison Ave, the old German butcher shop Schaller & Weber (best salami), lunch at Afghan Kebab House #2, antique shopping in Harlem, coffee and cannoli in Little Italy.  Lexington Ave is still one of my very favorites in the City, especially the little grocers that have the fresh produce and flowers on display on the sidewalk. Afternoons, we returned for a nap, then Armenian coffee on the terrace, followed by a much-anticipated fortune reading by Aunt Violet.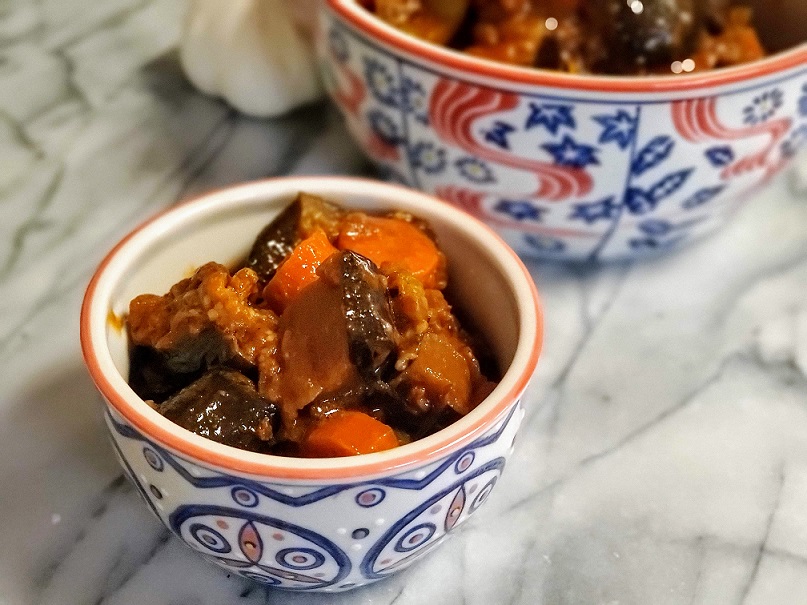 Like my grandmother, Aunt Violet was a fabulous cook (and a textbook genius). One of her legendary specialties was what she called "Salad do Sicily" the recipe for which likely came from an Italian neighbor.  Eggplants steal the spotlight in this mouthwatering mix of carrots, celery, bell peppers slow-cooked in a curried tomato sauce. If you can wash, chop and toss vegetables into a big pot, you can recreate this delightful vegan dish in your very own kitchen. Anyone can do it and everyone should.
Salad do Sicily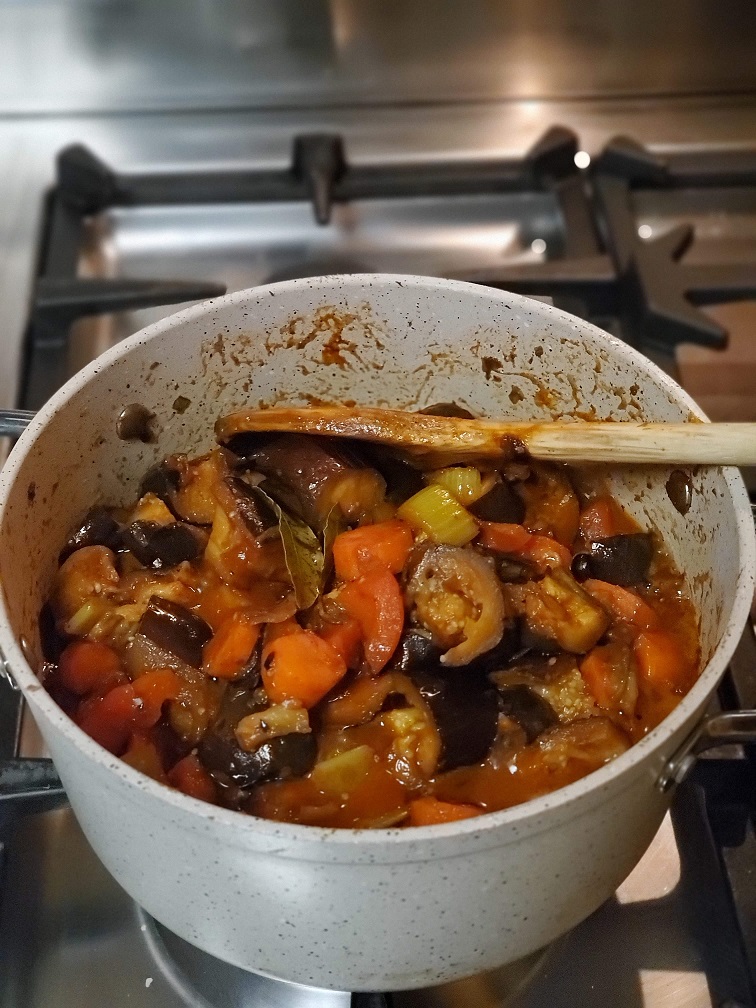 Serves: 6
Prep: 15 mins
Cook: 15 mins
Ingredients
1
onion, chopped

3 cloves garlic, bashed

2 carrots, peeled & chopped

3-4 celery stalks chopped

1 green bell pepper, chopped

5-6 Japanese or Italian (slender) eggplants, cut into discs

2-3 bay leaves

5-6 allspice berries, smashed

1/2 cup vinegar

3 Tb sugar

1 Tb curry powder

1 Tb tomato paste

Salt & pepper to taste

Extra virgin olive oil
Brown onions in a bit of olive oil
Add carrots & garlic
Add celery & bell pepper chunks.
Slice eggplant into round disks and put onto top
Nestle bay leaf & allspice between the veggies
Make the sauce with vinegar, sugar, curry,
tomato paste, salt, pepper,
Pour sauce over eggplant, cover, lower heat
Simmer 30-45 minutes.
Serve hot or cold.
It may sound ridiculous, but  I loved waking up to the beep-beep of the garbage truck and the humming of the city bus, sounds of the Big Apple. When I miss her, I make a big pot of her Sicilian Salad and remember those lovely chats on Aunt Violet's terrace.