The holidays are here and all eyes are on the North Pole. That's where you'll find Santa, his elves, reindeer, but you know what else you'll find there? My all-time favorite festive character… Penguins! Born in a tuxedo, he's always ready to party and no one can resist that swagger waddle.  Grab the kids and head to the kitchen. We're going to honor this little fella with Penguin Iceberg Cookies using candy mints, fondant and sprinkles.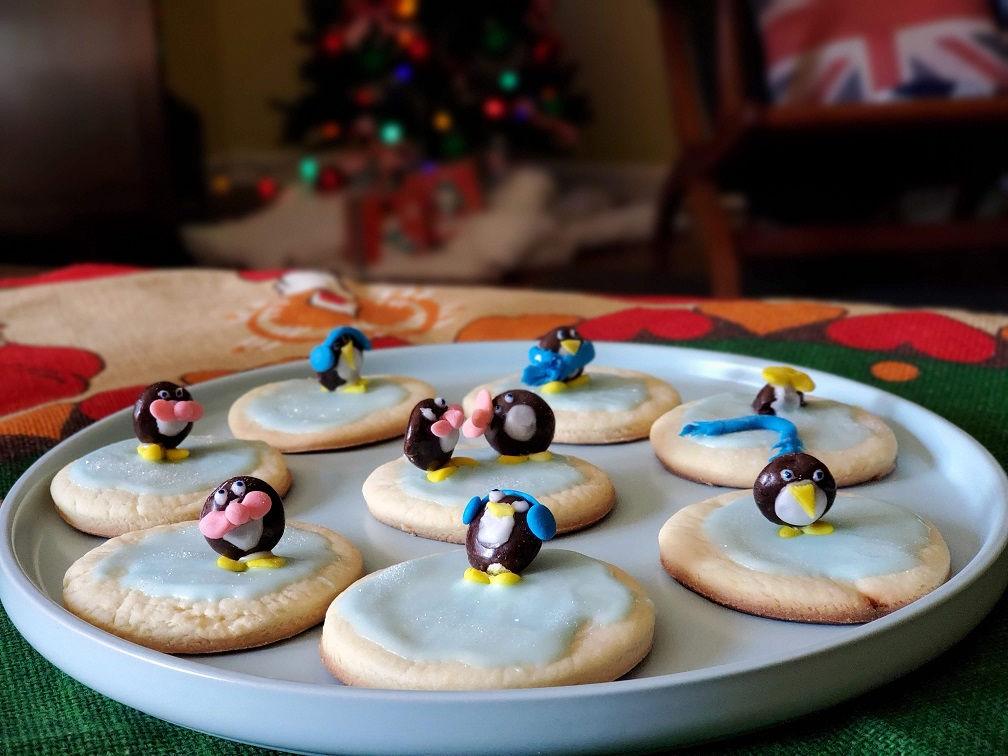 You can use a box mix, ready-made cookie dough or bake your own from scratch.
This is my favorite recipe for butter cutout cookies. No matter what cookie cutter you use, they hold their shape after baking and taste absolutely divine.
Decorating them is the most fun part, but they should taste good, too. Remember you will need extra time if you have little helping hands.
Penguin Iceberg Cookies
Makes: 32 2-inch round cookies
Prep: 10 mins
Oven: 350 *F
Bake: 10-12 mins
Chill: 30 mins
Decorating: 30 mins + depending on whether you're sipping wine or not
Ingredients
Cookies
1 1/4 sticks butter, @ room temp
1 1/2 cups powdered sugar
2 large free-range eggs, @ room temp
1 tsp vanilla
1 Tb freshly grated lemon/orange zest
2 2/3 cups flours
1 tsp baking powder
1 tsp flake sea salt
Icing
1/2 cups powdered sugar
2 Tb warm water
blue food coloring
1-2 drops peppermint extract (optional)
Decorations
Junior Mints, chocolate almonds or mini York peppermint patties
Sprinkles (hearts, stars, circles)
White fondant ( I like Wilton)
Blue, red, yellow food coloring
Edible glitter (like this)
Instructions
Preheat oven to 350 *F.
Cream butter and powdered sugar.
Add eggs, vanilla and continue mixing.
Add flour, baking powder and flake sea salt mix til the dough comes together somewhat.
At this point, if you need a break, you can wrap the dough in plastic and let it chill in the fridge for 30 mins.
If you can't wait to eat them, then let's go!
Dust a clean surface with flour.
Roll dough out to 1/4-inch thickness.
Use a 3-inch round cookie cutter or drinking glass to cut circles into the dough.
Arrange cookies 1-inch apart on the baking sheet and transfer to hot oven.
Bake 10 mins.
Remove from oven and transfer to a metal rack to cool completely.
While the cookies are cooling, tint a bit of white fondant with various colors.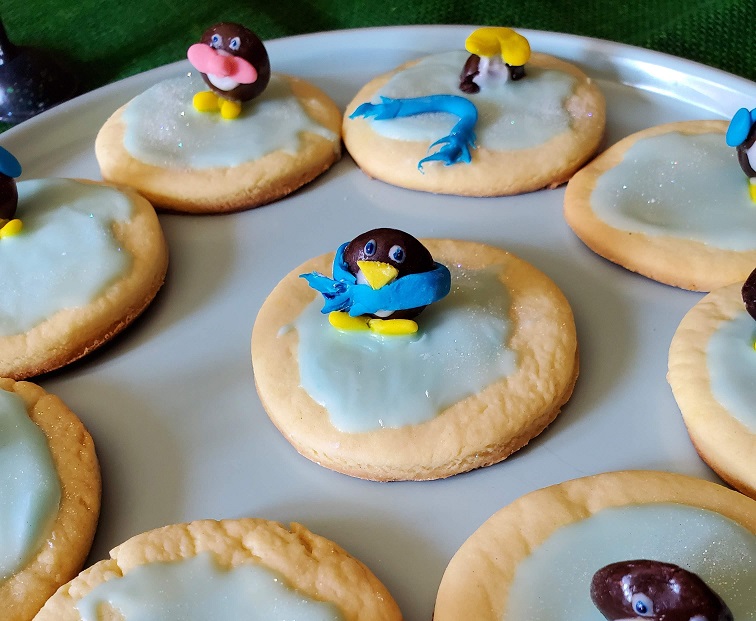 Feet
Roll 2 little balls, squish them flat to form a heart shape.
Bows
Roll 3 little balls.
Squish 2 flat and connect as you did the feet, into a heart shape.
Dot the center with a smaller ball.
Ear muffs
Roll 2 small balls and 1 long bit.
Lay the long bit flat and place a ball at each end.
Squish the balls flat and place over the head of the penguin,
Scarves
Roll a long bit of fondant.
Use a toothpick to slice each end to look like tassels.
Mix powdered sugar and water.
Flavor the icing with a few drops of peppermint extract, if you like.
Use a toothpick to apply a round dollop onto a candy for the penguin belly and dot a couple of eyes above.
Dot a bit of icing as glue to apply feet, bows, ear muffs and scarves.
Dot a bit of blue food coloring over the white eyes to make pupils.
Tint the leftover icing with a touch of blue food coloring. Spread the blue icing on top of cooled cookies.
Dust with edible glitter to make it look icy.
Nestle a penguin onto the icing and hold it in place for a few seconds.
Cut a candy in half, attach feet and place it so it looks like he's diving into the water.
Have fun!