Autumn is such an old-timey time of year. It's when school starts (at least when I was in school) and Mom takes you clothes-shopping so you don't look like a hobo wearing last-year's bad plaid. Fall is my favourite, maybe because my birthday's coming up. Maybe it's just the anticipation of the winter holidays.You can almost smell the falling leaves, especially early in the morning. There's something so old-fashioned about a time when everyone runs to the kitchen to bake something pumpkiny. Shawn and I love old traditions. We recently used some points to get an outdoor big-screen and movie projector from a site similar to Current so we could have a big movie night. We invited the neighborhood kids and their parents over for movie night just in time to celebrate Halloween. Nothing fancy. Just pizza and E.T. However, we now have the option to host these movie nights for the neighborhood whenever we want. There are so many films we could watch on this big outdoor screen. We know that most of the children would love to see some Pixar movies projected onto the big screen, and some of the adults probably would be happy to watch them too! Everyone seems to love Pixar movies. We recently heard from a friend that Up was ranked as the favorite Pixar movie in most American states. That is a great movie. We asked our friend to send us some more of the rankings so we could see what other movies were ranked. She said that there's some additional information here about that list. Perhaps we'll have to look into that and see if we can make our way through the list! Maybe our next movie night will be Pixar themed!
The Armenian code of hospitality stipulates that our guests have to be well-fed, cool drink in hand and totally relaxed, like they're at home. This usually means that I'm running around like a Tasmanian devil, making sure everyone's happy. So, my good husband set everything up, made the backyard beautiful, got the drinks, set up coolers. All that was left to do was order the pizza for delivery. Easy, right? Yes, yes, but, what about dessert? You KNOW I couldn't disappoint those cute li'l faces….

Cupcakes would be a sure winner with the kids, but something in keeping with the season.
Pumpkins? Acorns? A-Hah! Owls would be perfect! I could just picture one, quietly perched on a knotty branch, orange-brown leaves gently falling to the ground. Plus, Daisy is nuts about them. She's often pointing at her storybooks, chanting who who whoooooooo…. So, I made myself a strong cup of Armenian coffee, put on my fav apron and got right to work. I used chocolate cake mix and melted butter, instead of the oil. A splash of good vanilla would give a homey flavour.

Oreo Owl Cupcakes

Serves: 24
(or a couple less if you eat some of the Oreos.
I don't know who would do that…)

Ingredients
Cake:
1 box chocolate cake mix
3 eggs
1 stick butter, melted
1 tsp vanilla

Frosting:
1/2 cup sour cream
3/4 stick butter, softened
2 1/2 cups powdered sugar
1 cup chocolate, melted
1 tsp vanilla
1 tsp instant coffee (optional)

1 package chocolate sandwhich cookies (Oreos or Joe-Joes)
1 16-oz package M&Ms or Reese's Pieces

Instructions
Preheat oven to 350*F

Start by opening the package of cookies and candy and conduct a thorough taste inspection.
Eat a cookie or two to be sure they're nice and fresh. Then, toss a couple of candies into your mouth.
You don't want to serve stale goods to your guests, do you?

Once you're sure you have fresh supplies, move onto the cake.
Just follow the instructions on the box. I substituted melted butter for the oil.

Butter's always better.

Fill 24 cupcake cups about 2/3rds.
Bake @ 350*F for about 18-20 minutes.
Do a toothpick test at the center of one of the cupcakes to be sure they're baked thoroughly.

While the cupcakes are in the oven, make the frosting.
Melt the chocolate over a water bath or just nuke in the microwave.

I found some TJoe's dark chocolate in the pantry and it was starting to "bloom" (dry out). Wasting chocolate is high-sin, don't ya know? So, into the frosting it went.

Mix the vanilla with the instant coffee until the coffee is dissolved.
Then, combine all the ingredients until you have a luscious frosting.

Once the cupcakes have cooled properly, frost them generously.
This is for the kids, after all. We don't want to look cheap. 😉

Separate Oreo cookies and press a brown M&M or Reese's Piece into the white filling to make it look like an eye. I like the cross-eyed look, myself.
Gently press 2 Oreo-eyes into the frosted top of the cupcakes. Don't worry if the eyes appear too large for the face. Their disproportionate faces are the reason these cupcake owls are so cute.

Press a yellow candy in between the eyes for the owl's nose.

If you have time (I didn't), split each of the remaining cookie halves and use them as eyebrows over the big eyes.

These cupcakes are so much fun to make and a great way to spend some time with the kids this season. They'd be show-stoppers at your family Thanksgiving get-together.

Congratulations to Choc Chip Uru of Go Bake Yourself for winning the
Trader Joe's gift card worth $10. A big thanks to everyone who participated. Stay tuned for my next giveaway!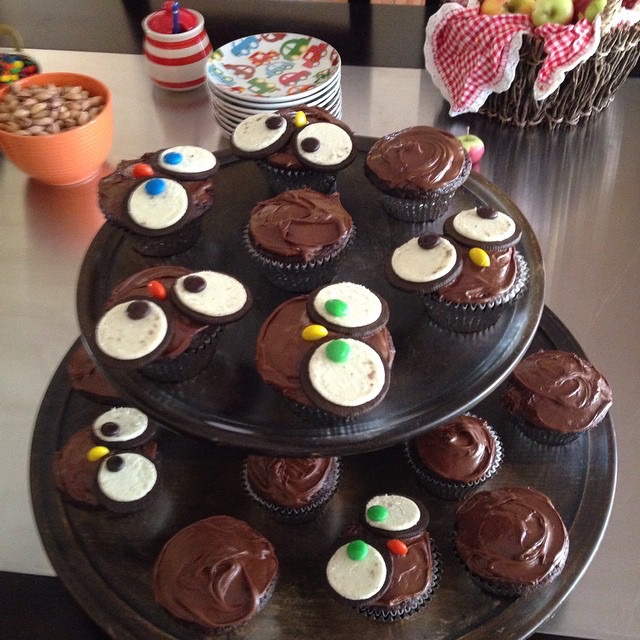 The Mad Rush
So, we leave for Australia tomorrow night and it's our first big trip with Daisy. Not sure about a 14-and-a-half-hour flight with a toddler. Believe me – that last half-hour's going to be the hardest.

In the last-minute chaos of doing laundry, cleaning the house, packing, planning entertainment for Daisy, cooking doggy food for Milou, cleaning Bibi's bird cage, paying our bills, and other important things that I'm sure we'll forget until after we land in Melbourne,
I've made a mad dash to Trader Joe's on my lunch hour to get a salad for myself and a gift card for you.

The original Trader Joe's in Pasadena is my favourite, but, parking sucks. Definitely not enough for the masses of devoted customers like you and me. Luckily there's another TJoe's a few blocks away and I drive a turbo-diesel! The second shop is on the roof level of the parking structure next to Macy's.
Round and round and round all the way up to the roof…. I was really starting to get sea-sick behind the wheel. But, you're worth it and I was happy to finally get there. Zipping through the double doors, doing a quick visual inventory of all the interesting new goodies that I don't actually need, but do desperately want, I found:
©Peppermint extract
©Canned organic pumpkin, 6 cans (This stuff's too good not to share.)
©Louie salad (because the name is cute)
©Belgian dark chocolate (for my folks, not for me)
©San Marzano tomatoes, 5 cans (I couldn't carry any more)
©Greeting cards
50-bucks in 5 minutes.

I must be a record-holder somewhere. Off to the check-out, nearly forgot the gift card, paid my $56.93, then back to the office. Gasping, I bounced into my chair, chomped on my salad and buried my face in my 'puter again. Today's a great day full of excitement not only because we're off on an adventure tomorrow, but also because I wonder who who whooooooooooooooooo will win???