Comfort Food, Party Food
Today is our little sweetheart's birthday and the theme is going to be everything ninja, as per the birthday girl's request. She is taking karate lessons and loving every minute of it. In one of my moments of ambitious venturing, I decided I would not only bake Daisy's birthday cake, but also make all the food. Mochiko Chicken would steal center stage, of course. A Hawaiian recipe popular among the Japanese, mochiko chicken is a light and crispy cousin to the all-American classic fried chicken.
Hey, Honey? What's for dinner?
Old favorites often pop up at dinnertime, but, when I'm looking for something new to try, I go to my favorite people, like my dear friend Janine of Happy Happy Nester. That's how I heard about mochiko chicken. It's a special family recipe. Janine's mom Millie would make it, cut into strips and packed in a container with sticky rice sprinkled with furikake. The kids would pass it around in the car during road trips or enjoy it in the bleachers during her brother's games.
The meat is marinated in classic Asian flavors including ginger, garlic, soy sauce, scallions and, most importantly, mochiko, sweet rice flour. Then, just before frying, the chicken gets a second dusting of rice flour to make it extra crispy, Janine's mom's trick.
Kids love this stuff and you love feeding them something you know is good for them, because you made it yourself. Chicken nuggets just got told.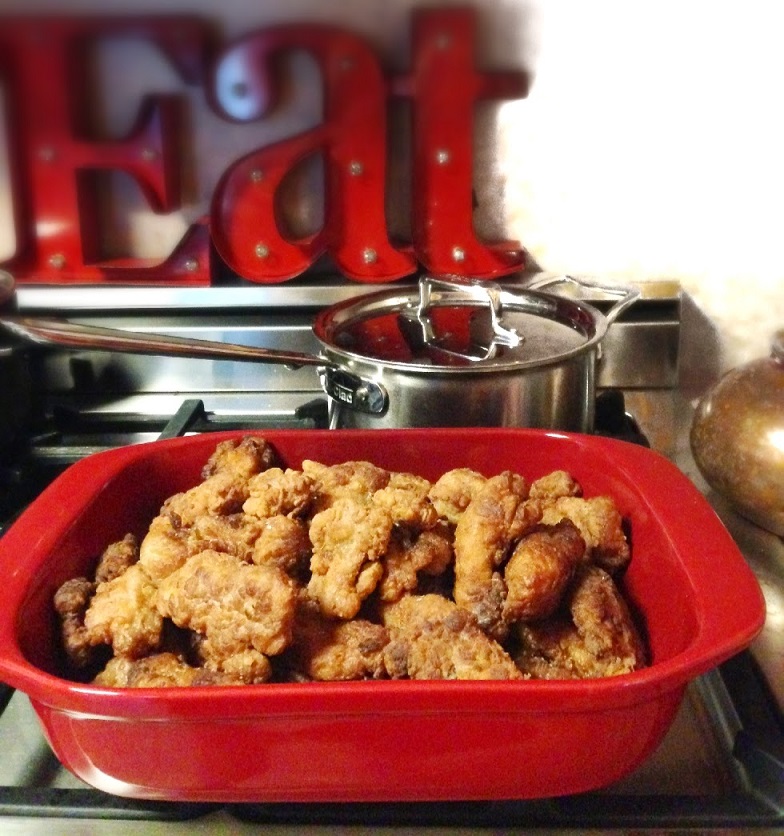 Mochiko Chicken
Serves: 8
Prep: 5 mins
Cook: 20 mins
Ingredients
5 cloves garlic, minced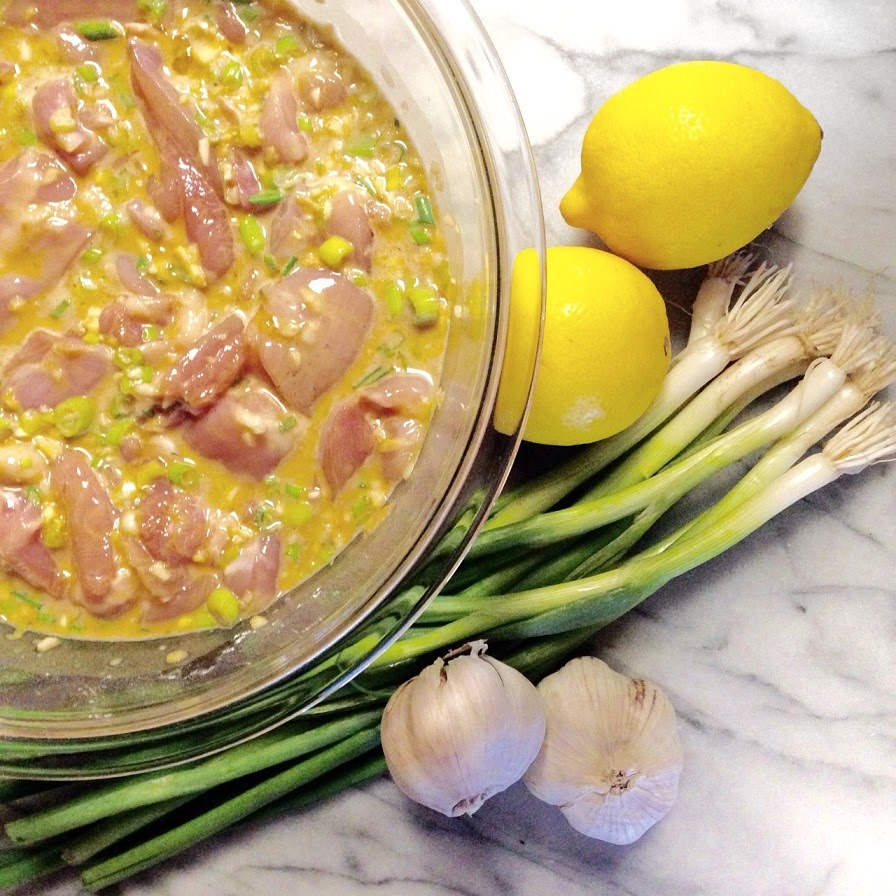 2 stalks scallions
1 cup soy sauce (I like Kikkoman best)
2 lemons or limes, juice only
2 lbs boneless skinless chicken thighs
1/2 cup mochiko (Japanese sweet rice flour)
+ 1 cup for 2nd coating
1/2 cup cornstarch
3 cups peanut or vegetable oil for frying
2 tsp toasted sesame seeds
Instructions
Give garlic cloves a good bashing with the flat of a knife blade.
Peel and mince fine. Set aside at least 10 mins. (You know why.)
Chop scallions and add to a large bowl. Save 2 Tb for garnish before serving.
Drizzle soy sauce, lemon/lime juice.
Wash and cut chicken into bite-size pieces and add to the bowl.
Use a pair of cooking tongs to mix well.
Sprinkle mochiko and cornstarch into the bowl.
Mix well to coat evenly.
Fill a deep pot with about 1 inch of light vegetable oil and place over medium heat.
Add about a cup or two of mochiko flour to a small bowl. This is for the 2nd coating.
Use tongs to lift pieces out of the marinade and coat evenly with mochiko flour.
Fry in small batches until golden brown on both sides. Set over paper towels to absorb excess oil.
Sprinkle toasted sesame seeds and scallions over the top.
Serve hot or cold with rice, vegetables, pickled ginger, nori.
Forget Chicken Nuggets
We dropped my mom-in-law off at the airport last night and were glum on the drive home. Daisy was in the back seat and we had nothing ready for dinner. So I ask her what she'd like and the answer almost always is "Old MacDonald's chicken nuggets." We gave in and got McSchlop to go. We got home and sat in our breakfast nook to eat the most non-gourmet form of sustenance on the planet, when she leans back in her chair, rolls her eyes up and sighs, "Mmmmm…Heaven."
Really? What's so heavenly about pre-frozen, dry, cardboard bits of what may or may not have once been chicken?
I ask if they're better than my mochiko chicken, to which Shawn warns, "Be careful how you answer that, Cookie."
We are drawing closer to the party date and I have since come to my senses somewhat. Because Daisy's birthday actually falls on a weekday this year, we will mark the occasion with a cozy evening at home. Mochiko Chicken will be served for dinner, followed by a dainty little cake made from scratch, of course.
It seems like an eternity has passed since I got to flaunt my big, round belly proudly. I could no longer see my feet, but, fortunately, I could still see my faithful pup Milou.
I'll never forget that moment when Shawn and I heard Daisy for the first time. Quivering heart, we both broke out in tears from this overwhelming feeling of happiness.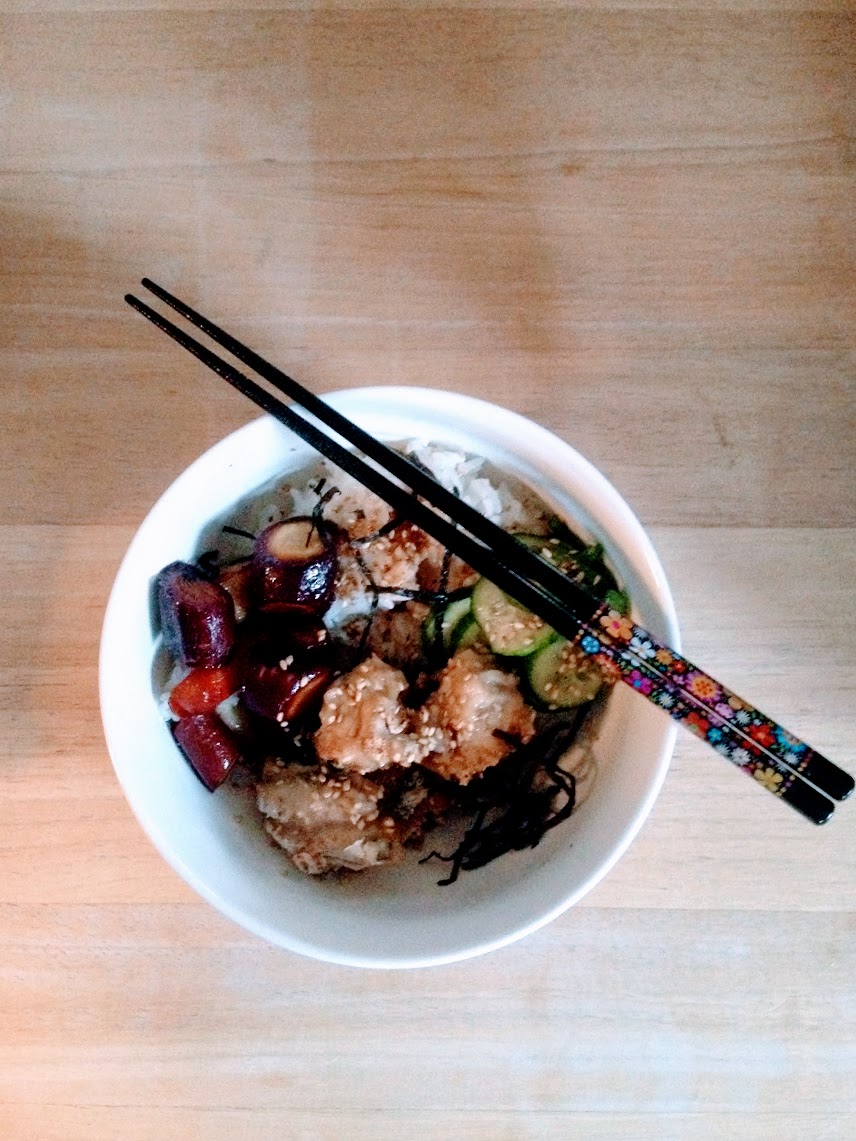 I'd never felt like that before. I've been reminiscing about my pregnancy, the morning Daisy was born, her first birthday. My heart breaks a little as I look at photos of her growing up and wish I could relive those days just once more.
This is when I kick my heels off, toss my favorite apron on and head for the kitchen. There's a huge order of Mochiko Chicken to be filled tonight, followed by a dazzling lemon poppyseed birthday cake.
We are celebrating how grateful we are to have Daisy in our lives. Her kindness, attention to detail, warm smile and animated cuteness make me just so proud.
If you're a parent, you know what I mean. If you don't have children, I hope one day you, too, are blessed with having a pint-sized someone special who asks you to cook Mochiko Chicken.