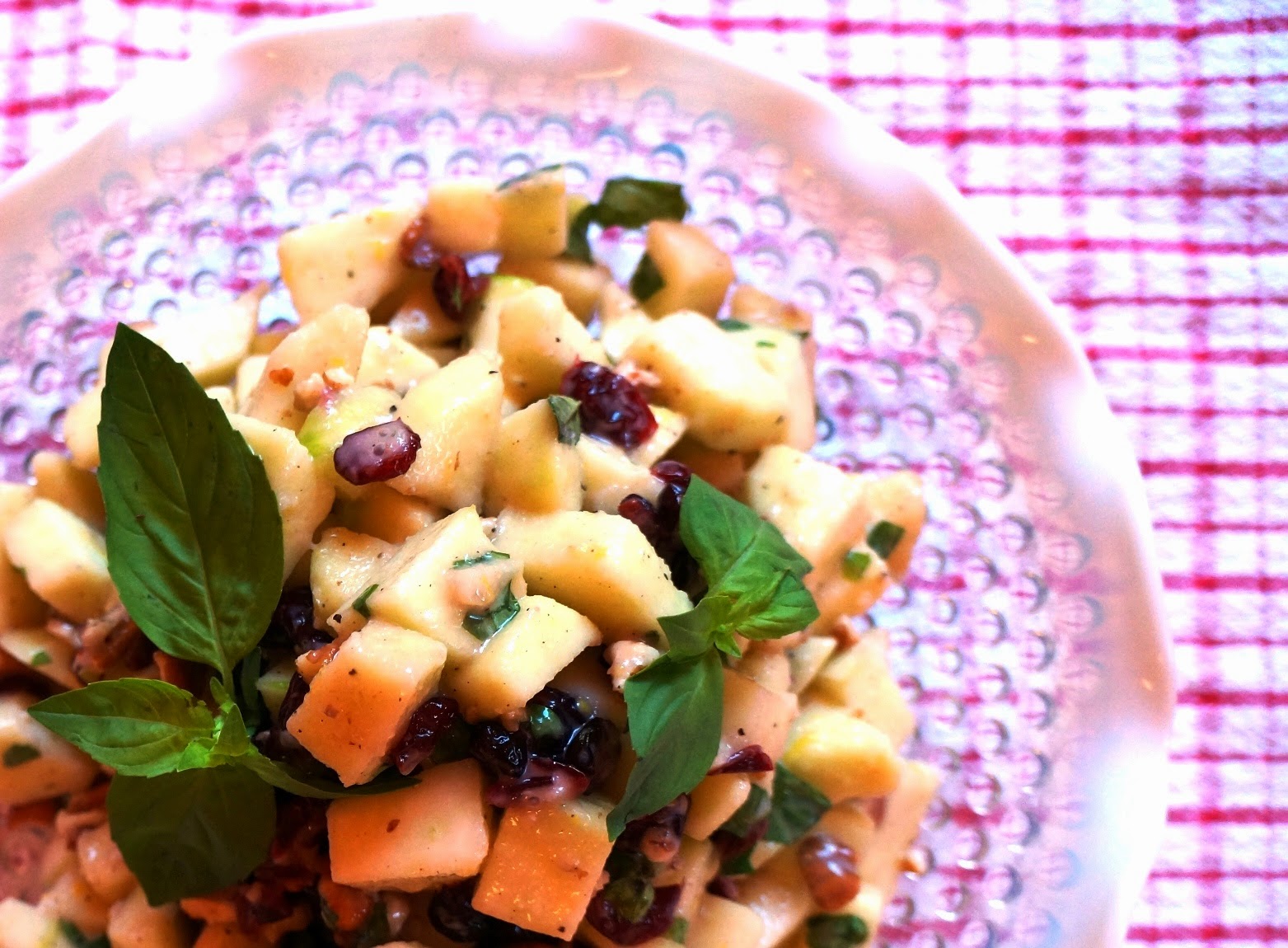 Mother's Day is around the corner! I am so excited, planning the menu for our special guest of honor. First off is Honey Apple Salad. It's so quick and easy to put together and looks stunning. Honey Apple Salad makes a great BFF for grilled cheese and does well on its own as a light brunch dish. This fresh and healthy mix of sweet-tart apples, chewy cranberries, toasty pecans and fragrant basil is sure to wow Mom.
Mom's So Special
Thinking about Mom and what she means to me makes me smile. Her sweetness translates to her natural beauty, even without a trace of make-up on her face.
She is a revolutionary woman with a perspective so different from the way the rest of us see things. While we go for the ol' trusty usual, Mom is the adventurer who encourages us to try new foods, go to new places. Mom makes the world a better place for all of us.
Mom loves Nature and has instilled in us a sense of responsibility for the world around us. The garden is her refuge. She can spend hours there, tending to the flowers.
Honey is the most important item in her home-remedy arsenal. She is a firm believer in its antibacterial, anti-inflammatory, healing effects and I follow suit. Whenever Daisy has a terrible cough, she finds relief with a tasty spoonful of honey.
My happiest days all have Mom in them. She had a beautiful veil made of vintage embroidered lace for my wedding day. It is now a cherished family heirloom that I hope Daisy will wear someday.
She notices fine details about people and will always tell you the truth, especially if those pants really do make your butt look big, because she wants you to look your best. She has a nurturing soul that never stops worrying about the people she loves. She stands by my sister and me, even in the toughest of times.
Our home is filled with beautiful antiques, glassware, vintage items from Mom. She knits cozy sweaters for everyone in the family. Her handmade crocheted doilies are displayed proudly throughout our house as a reminder of the importance of the little details in ordinary life.
Mom is creative in the kitchen, too, often inventing her own recipes on the fly. That spirit is what inspired this honey-apple salad. As I was tossing this and that into the bowl, I was thinking, "What would Mom put into this?"
If you are after the perfect gift for your mom, this quick salad is sure to make a big impression. Treating her with something homemade will speak volumes to her about what she means to you.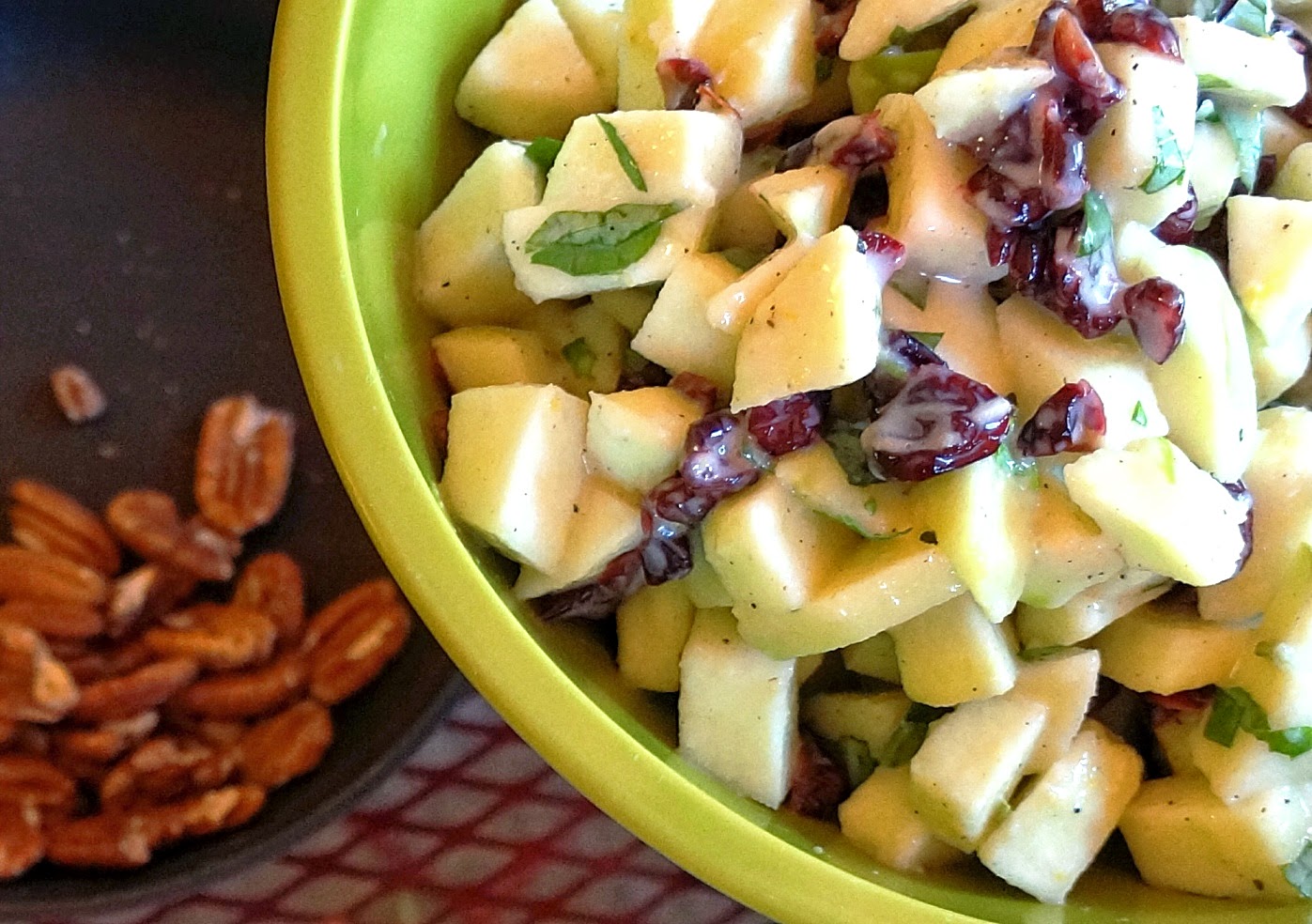 Serves 4
Ingredients
1 cup pecans, toasted
1 lemon, juice & zest
1/2 cup mayonnaise
Salt & pepper to taste
4 large Granny Smith apples
1 bunch fresh basil
1/2 cup dried cranberries
2 Tb honey
Instructions
Set a small pan on medium heat and toast the pecans, about 10 minutes.
Juice and zest a lemon into a big bowl. Add mayonnaise, salt and pepper.
Remove pecans from heat and allow them to cool to room temperature.
Peel and chop apples into small, bite-sized cubes.
Add to the bowl and coat well with the lemon-mayo sauce. The acid from the
lemon will prevent the apples from oxidizing (darkening).
Break pecan into smaller pieces over the apples.
Tear basil and add to the bowl.
Sprinkle a good handful of dried cranberries and mix well to combine.
Drizzle honey over the top.
Adjust seasoning to taste.
Transfer the salad to a pretty bowl or dish.
Chill until ready to serve.
Can't tak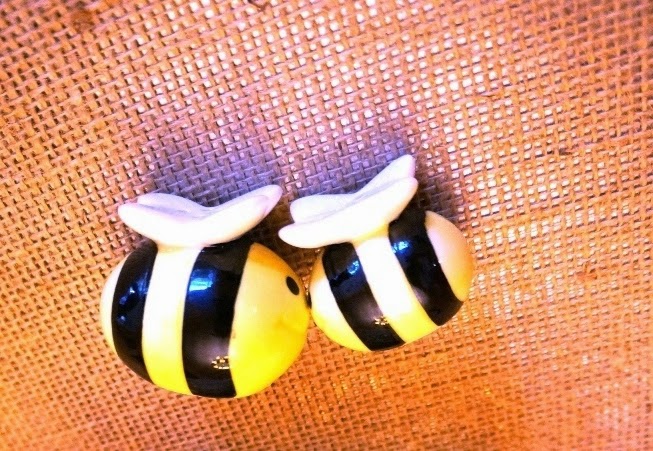 e your eyes off of my super-cute honeybees? These Mommy & Me salt and pepper shakers are from Kate Aspen. Put this sweet duo on top of your Mother's Day present and you'll get the vote as her favorite child.
Bees contribute a lot more to our planet than honey. They balance nature and help it thrive. Without them, our beautiful world will come to an end. And we are the cause. We must be the solution. Get the kids involved and make it a fun weekend family activity. Plant something that attracts bees. Donate to worthy organizations leading the cause to save our bees. Buy certified organic produce whenever possible. The threat is real and every effort, however small, can have a big impact. What are you doing to help the effort?
Eye for Style
While most people love symmetry, Mom likes pairing objects that share a vein somehow, but different in form. She revels in finding an antique treasure in a dusty, neglected pile and bringing it back to life at home. We could spend an entire day out on the town or at home, busy rearranging furniture, even just setting the dinner table together. Burlap is not exactly her idea of the best tablecloth fabric, but she smiled and helped me set my crazy table, anyway.
Burlap is a natural fiber and is treated with non-toxic chemicals that give it a delicious fragrance akin to gasoline or turpentine. Before draping burlap over your dinner table, spray distilled white vinegar over the fibers several times and let it dry. Airing it out for a couple of days in the backyard should also help dissipate the nasty odor.
With her keen eye for design, love of natural things and kind heart, Mom makes my life meaningful. She has taught me that a thoughtful table sets the scene for a delicious meal and warm gathering, the foundation of the family.
Bees make the world around us bloom and Mom makes everything beautiful. Honor her with some quality time together and this elegant salad.
It comes together in no-time, but you get full credit for the thoughtful effort. The basil lends an unexpected freshness to the mix and the honey balances everything nicely.
This is healthy stuff that tastes like it should be bad for you. Every bite is a burst of something different – Lemony, toasty, fragrant, tangy and as sweet as Mom herself.