Old Timey Goodness
Like most kids, Daisy's takes juice over water ever chance she gets. We usually water it down and try to moderate her intake, but it's often a challenge. Lately, she's has been asking for lemonade which is so easy to make at home, but she soon started getting bored with it. That's when I grabbed Welch's 100% Grape Juice and made Grape Lemonade. This old timey drink got a supermodel makeover with heart-healthy purple polyphenols and rich flavor.
Farm to Table
Whenever he can, Shawn makes fresh juice for us with all sorts of fruits and veggies…carrots, apples, oranges, spinach, cucumber. It's just is so refreshing and crave-worthy, but the process is somewhat time-consuming and messy. We often rely on store-bought juices, but are careful about our choices. Welch's is tops on our list.
Corporate America is changing, because demands are changing. People are moving away from mass-produced, processed foods and looking for more natural, simpler foods. We are big on supporting family businesses and all the reasons I love Welch's are printed right on the bottle:
*Owned by family farmers
*Been in business since 1869
*100% juice
*No sugar added
*Non-GMO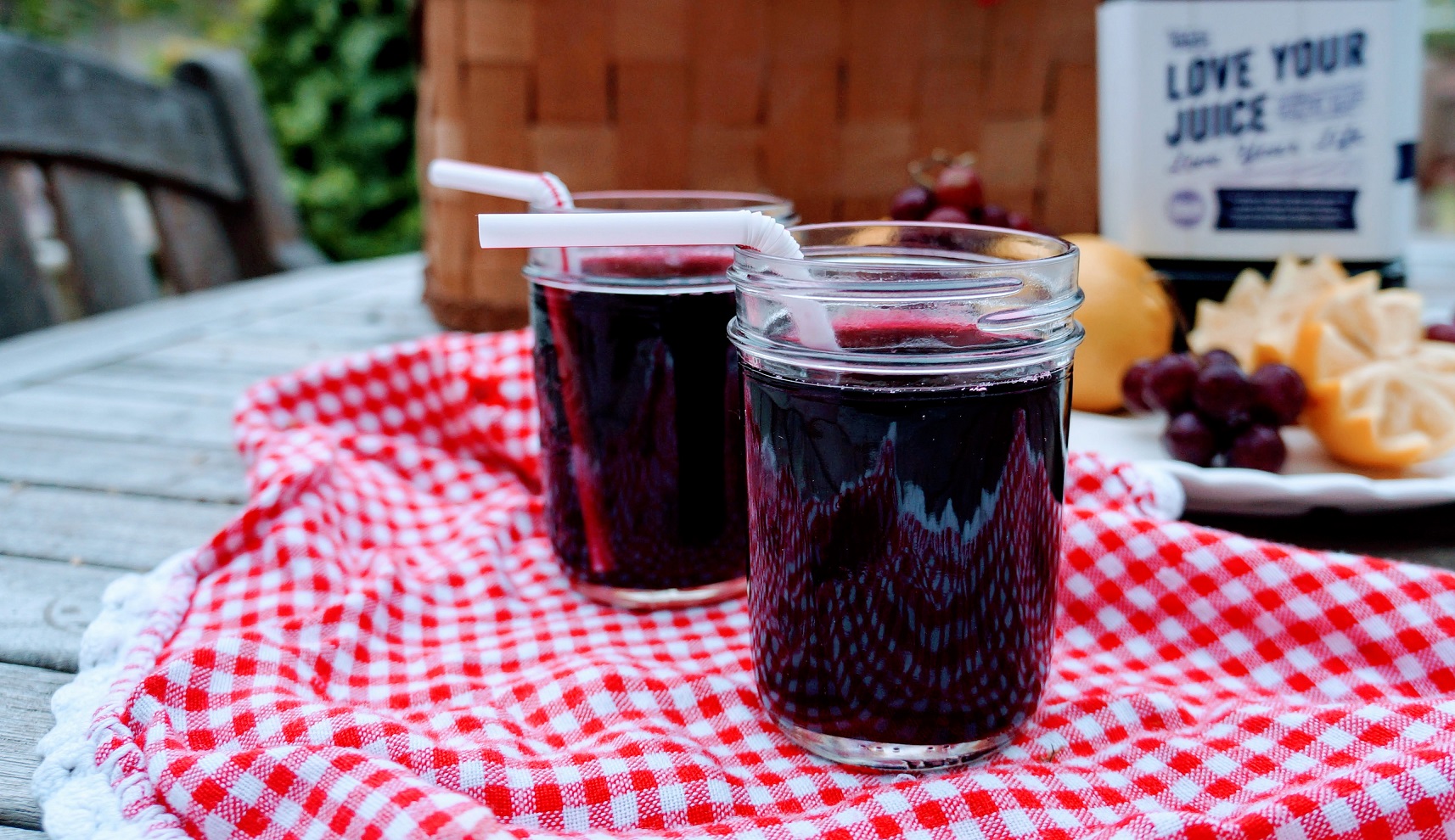 Spicy Drinks
Daisy must've been close to turning 2 when she started putting words together, but wasn't quite making sentences yet. I was in the kitchen, washing dishes when I felt her tugging at my apron, asking for a spicy drink. Spicy what? I didn't even know that word was in her vocabulary and much doubted she actually knew what it meant. Neither did Shawn. When we asked her to show us what she wanted, she wobbled to the fridge and tapped on the door. That's when we realized she wanted a Pellegrino soda. The fizzy bubbles tickled her tongue and gave her that spicy sensation! Grape Lemonade puts some of her most favorite things into one glass. All-natural flavor drawn from rich Concord grapes, incidentally her favorite color of purple goes beautifully with zingy lemon. Topped with a splash of sparkling mineral water adds a little luxurious touch to this lovely drink. No one would ever guess how quickly you put it together. Just open the bottle and pour!
Grape Lemonade
Serves 4
4 cups Welch's 100% Grape Juice
1 lemon, juice + zest
4 splashes of sparkling mineral water
Serve over ice.
We hope that introducing healthy habits to Daisy while she's young will stay with her for the rest of her life. She watches us reading the labels on foods we choose for our family and is learning the importance all natural over processed items. Welch's 100% Grape Juice contains juice from prized concord grapes with heart-healthy polyphenols, but the only thing kids will notice is the pretty purple color and yummy sweetness. You'll feel great about serving all natural, healthy juice to your family and even better that it's provided by family farmers. Get your coupon today and try grape lemonade for yourself today!