F

all is here! There's a crisp breeze in the evenings now. That maple tree in front of our house is changing from green to red to gold. Li'l bushy-tailed squirrels are dashing between trees, collecting acorns for the winter.
The ancient Greeks and Japanese ate acorns when other food staples were scarce.
Native North Americans, especially in California where oak trees thrive, have long known how to remove the bitter tannins when making acorn meal.
Curiosity is k i l l i n g me. After seeing Hank Shaw's Acorn Maple Shortbread Cookies, I really want to know what acorn flour tastes like.I'd be outside, looking under oak trees right now, but our squirrels don't need the competition (and I'm lazy).
So, I decided to make my own.With chocolate. Naturally.
The weather's just tolerable enough for one last movie night in our backyard with the neighbourhood kids. Shawn's in charge of the technical set-up. Daisy and I plan the baking, something fitting to welcome Autumn. Last year's cute owl cupcakes would be tough to beat.
But, we had a plan.
My favourite chocolate cake recipe (below) would be a great foundation.
Chocolate acorns would give the cupcakes a fresh look.They're easy and really fun to make. Grab the kids and gather around the table.
The hardest part is unwrapping the Kisses, but if you reward yourself by eating the ugly ones,
you'll have a bunch ready in no-time. Get the kids to help. This is so much fun.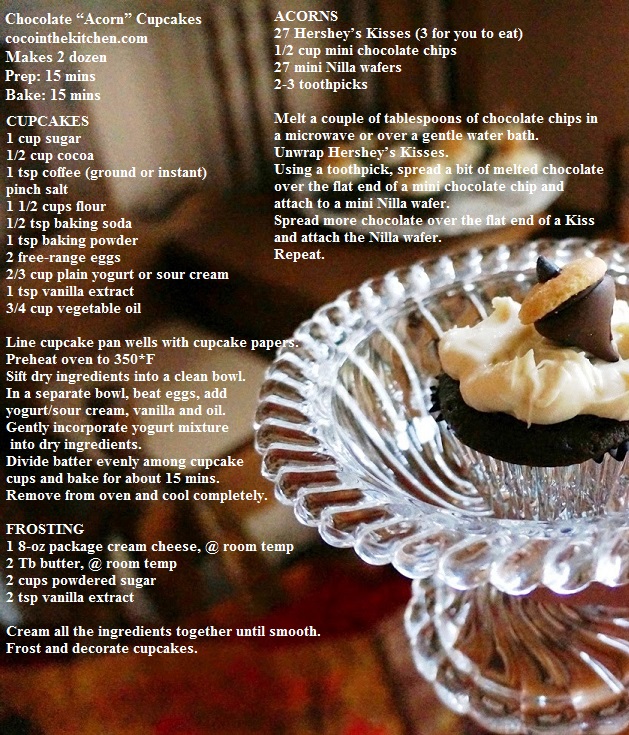 Homemade chocolate cake always tastes best, but if you're short on time, use boxed cake mix and ready-made frosting.The acorns can be made ahead of time and stand ready to decorate any cake or cupcake.
They're delicious on their own, too.
These Chocolate "Acorn" Cupcakes are perfect for any get-together and sure to be the star at the local bake sale.
Oh and by the way, it's not too late to enter to win that
Autumn yarn wreath
I made for you.
Donate any amount, even $5, at
http://www2.mda.org/goto/cocointhekitchen
and you're in for the drawing! The winner will be picked randomly on October 30th.
It's just that easy and for a very good cause. Then, go celebrate with a cupcake. You deserve it.