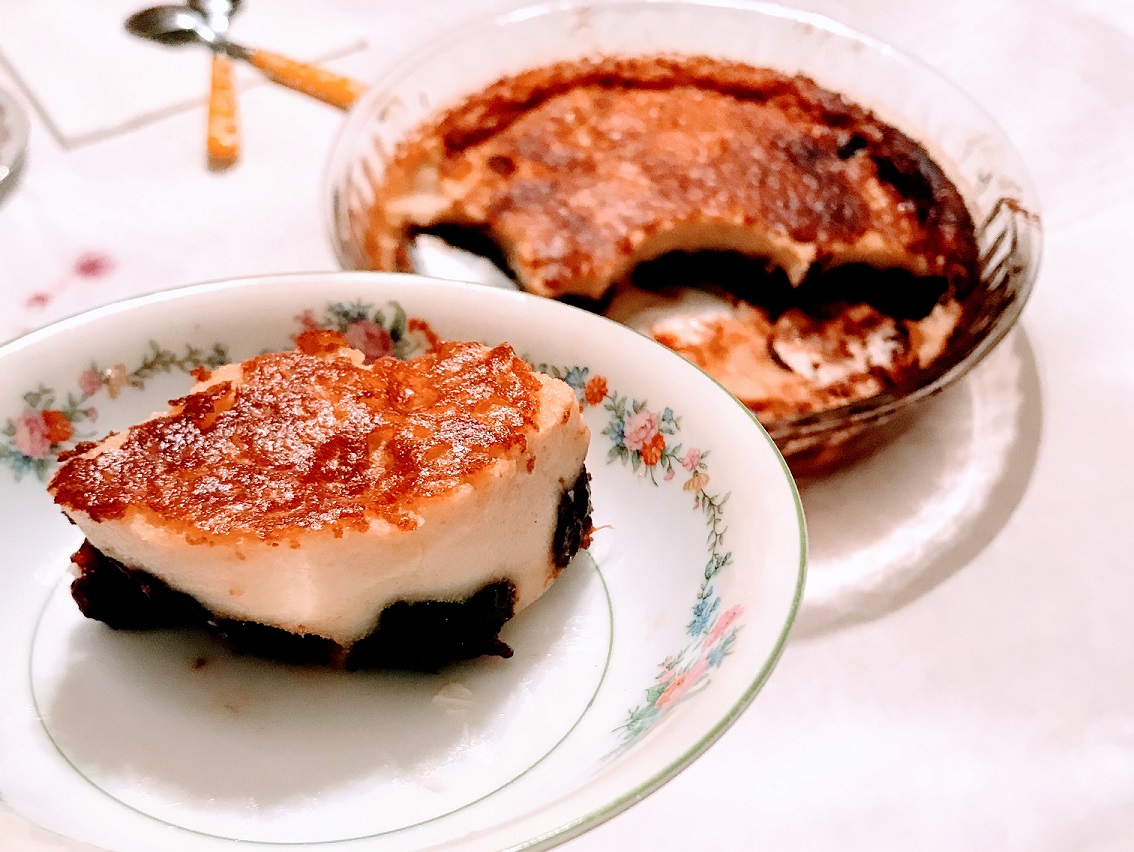 The first time I heard of Far Breton was on Anthony Bourdain's visit to Brittany years and years ago. He was invited to someone's house for a cozy home-cooked meal the only part of which I distinctly remember is the oval-shaped baking dish holding this delightful treat coming to the table.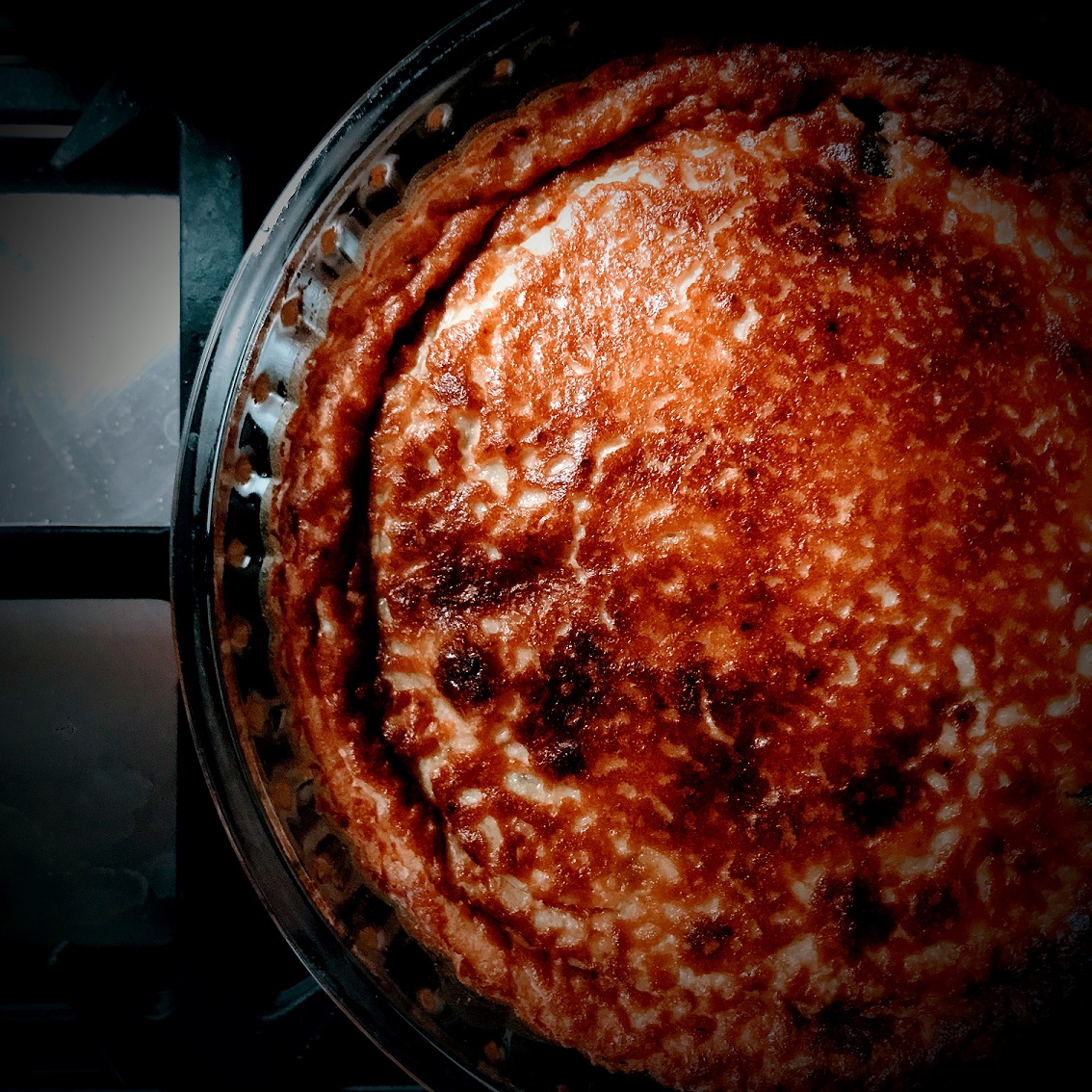 Far Breton is a delicate custard that tastes much like a sweet, buttery vanilla-scented crêpe. It's so easy to make and slap-your-knee good to eat! After researching the recipe, I stumbled upon Chef Ludo baking with his son Luca. That kid is so cute, I had to try making it.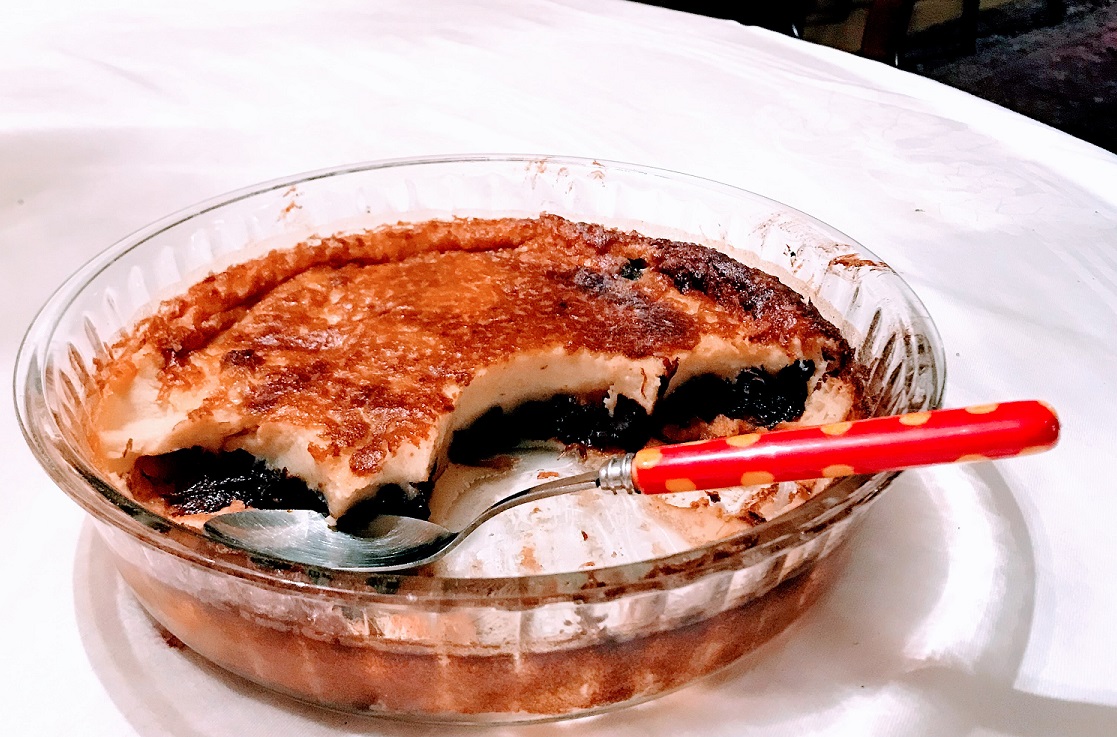 Diplomatic Immunity
Traditionally, this delightful thing is made with prunes soaked in some sort of fortified wine or rum, but, I used spiced rum. Then, when I ran out of dried plums and rum, I used dried tart cherries and Kahlua which is really coffee liqueur + rum and was it delicious. I'm neither French nor from Brittany, so I can do this.
The dried fruit needs to be rehydrated, which you can do several days ahead by just soaking it in the booze, but, you can speed up the process by heating it in the alcohol the day of baking. Just be careful not to burn your eyebrows off if you do the flambé. Also, it is recommended that the batter chill at least 4 hours or overnight in the fridge. If you're in a hurry to see what this thing tastes like, you can just throw it all together in 10 minutes and bake it. The results are spectacular, so why wait?
Far Breton can be made in advance and stored in the fridge for up to 3 days. 30 minutes before serving, take it out of the fridge and let it warm to room temp.
Far Breton
Adapted from Ludo Lefebvre
Serves: 6
Prep: 10 mins
Rest: 4 hours (don't wait if you can't – I didn't)
Oven: 400*F
Bake: 45 mins
Ingredients
2 cups pitted prunes
1/3 cup good quality cognac, rum, brandy or Armagnac
2 large free-range eggs, @ room temp
2 large egg yolks, @ room temp
1/2 cup sugar
2 cups whole milk
1/2 stick melted butter
1 tsp vanilla extract
pinch of salt
2/3 cup flour
A bit more soft butter and flour for preparing the baking dish
Instructions
If you have time, soak dried fruit in rum a day or 2 before baking.
If you're making everything on the same day, them gently warm the fruit and alcohol in a small saucepan until most of the liquid has been absorbed. Remove from heat and set aside.
Melt the butter and set aside.
Butter and flour the bottom and sides of a 10-inch round cake pan – do not use a springform pan as it will leak!
Preheat oven to 400*F.
Whisk milk, eggs, yolks, sugar, melted butter, vanilla, salt, and flour.
(It is recommended to let the batter rest at least 4 hours or overnight in the fridge, but you can bake it right away as I did.)
Arrange fruit into baking dish and pour batter over the fruit.
Transfer to hot oven and bake 30 mins.
Remove cake from oven and rub a dab of butter over the top evenly.
Return to the oven and bake another 15 mins.
Enjoy warm or chilled.
A Touch of Butter
There is an inherent dichotomy in French cuisine where either something is very simple to make using staple ingredients like butter, sugar, milk and eggs or it requires high-hat culinary training and calls for something that only grows in the Alps along the French-Swiss border. Lucky for us, anyone, anywhere can make delicious Far Breton. The aroma emanating from my oven is driving me crazy. That sweet vanilla butter scent is so intoxicating, I wish I could bottle it up! And the finish with a touch of butter is what makes it so French.
Here's the video that inspired it all. If you're a parent and an immigrant like me, you're gonna love this!