Mom's Cooking

Everything Mom makes is delicious, even the stuff she throws together with whatever's in the fridge and, while whole stuffed vegetables are not a culinary revelation, per se, her version will slap your taste buds and leave you grinning like a village idiot.

Granted, I am shamelessly biased by my mother's cooking, but the aroma of nuked leftovers floating from my cubicle is driving my coworkers crazy, begging for the recipe which I proudly share.

What's In It?

You are what you eat. So, eat well! What's in this dolma? Everything, of course. Nearly every kind of herb – parsley, dill, coriander, tarragon, mint, scallions, savory and basil. Then there's Mom's Secret Sauce – tomato paste, brown sugar, vinegar and curry. Simmering slowly, this fragrant concoction is like none you have tasted before.

Vegan, paleo, gluten-free, whatever you fancy, this dish willingly conforms to your wishes. Drop the meat for minced mushrooms. Nix the flour in the sauce and use cornstarch as a gluten-free thickener. Drop the rice for yellow split peas and it's paleo.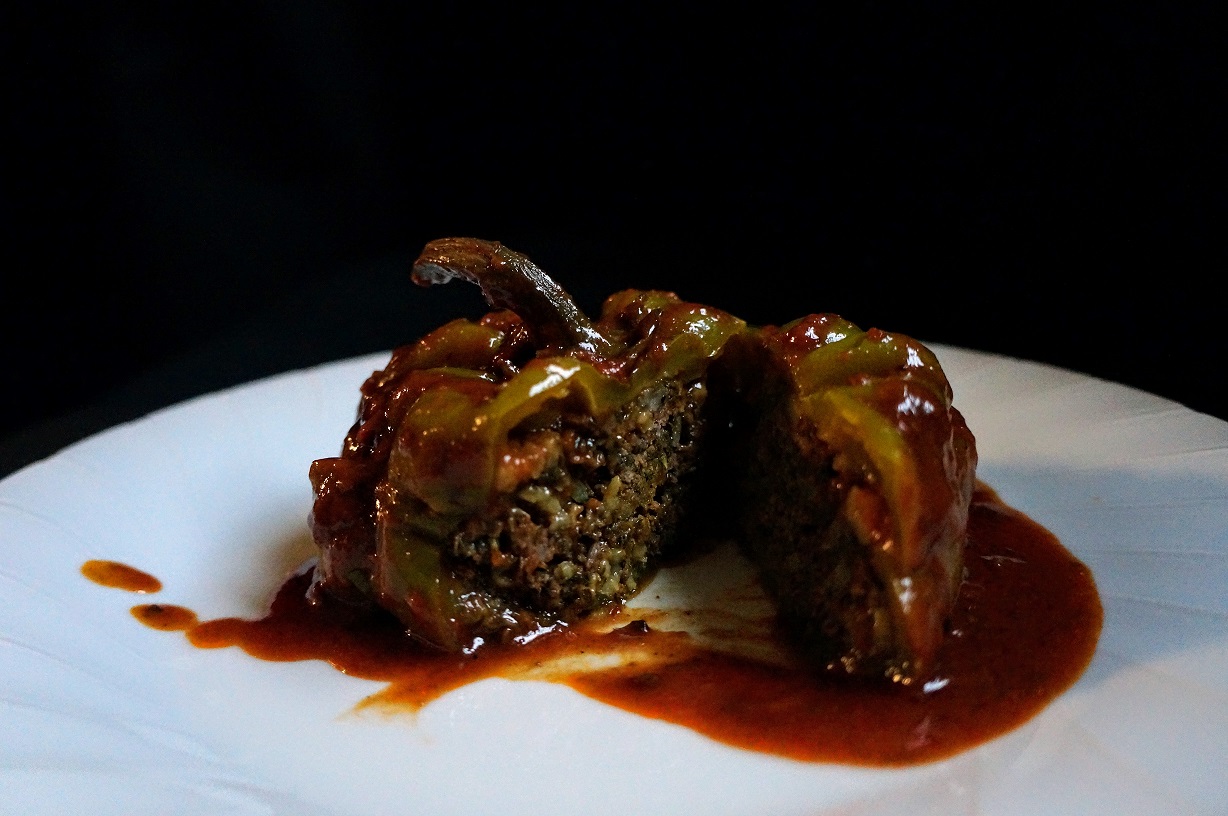 Mediterranean Food

The people of the Middle East share a common palate, regardless of their political and religious perspectives. Sadly, food isn't enough to bring peace, but it is my belief that if you could gather all the world leaders around a big, round table and treat them to good food and wine, the world would be a better place.

The term dolma comes from the eastern Mediterranean, Caucasus and Balkans, referring to a dish with many variations. Traditionally, a meat and rice filling is wrapped in grape or cabbage leaves and, sometimes stuffed into whole vegetables.

Then, there is a meatless version called sarma  or yalanchi (which means faker) made of grape leaves stuffed with a tangy rice filling with walnuts or toasted pine nuts and often served cold as an appetizer.  Then, there's my favorite, whole stuffed vegetables steamed in a sweet-tart curry sauce.

Like all saucy little numbers, this one tastes even better the next day. The overall flavor varies depending on the type and amount of herbs and vegetables used. Tomatoes, onions, zucchini, bell peppers are usually there. Little dainty Indian eggplants are also perfect, not only because of their cute little forms, but also, because the seeds are fine, the taste is never bitter and the texture remains pleasingly firm in the cooking process.

Even the Halloween Jack 'o' Lantern pumpkin doesn't got to waste in a variation of an Armenian recipe often seen in Autumn. The filling is versatile in that every family has a signature recipe.

Mom's Dolma (Stuffed Vegetables)

Note: When you are ready to stuff the vegetables, mix the meat with the rest of the filling ingredients. If you do this ahead of time, the meat will remain red and appear raw even after cooking.

Prep: 30 mins
Cook: 90 mins
Serves: 8

Ingredients

3 medium bell peppers

3 medium onions

10 small tomatoes

Filling
2 bunches scallions
1 bunch flat-leaf parsley
3 bunch cilantro
2 bunches dill
1 bunch mint
2 Tb fresh savory leaves or 2 tsp dried
1 Tb fresh tarragon or 1 tsp dried
bunch basil
1.5-2lbs fatty pasture-raised ground beef or ground seitan (vegan)
1 Tb curry powder
1 tsp turmeric
2 Tb olive oil
1 1/2 cups short-grain rice (uncooked)(or 1/2 cup yellow split peas cooked in 1/2 cup water)
S&P to taste

Sauce
4 Tb brown sugar
1/2 cup flour or cornstarch (gluten-free)
2 cups vinegar
2 tsp curry
4 Tb tomato or pepper paste
reserved pulp of vegetables
S&P to taste
1 stick butter or 1/2 cup olive oil

Instructions
Trim, wash & arrange herbs onto clean tea towels to dry, an hour or overnight if the weather is cool. Cook split peas, if using, in water ~ 20 mins.

Drain and set aside.

Chop herbs, either by hand in batches or pulses in a food processor.

Mix well with the rest of the filling ingredients except the rice/split peas.

Add a bit of hot water & olive oil.
Fry over medium-high heat until meat is browned.
Remove from heat and let the filling cool.

Mix cooked split peas, if using, with raw rice and herb mixture. Set aside.

In a separate bowl, combine sauce ingredients.
Puree the sauce and add some to the filling.
Pour the rest of the sauce into a big pot.

Wash vegetables and slice top off – do not discard.

For the eggplants, peel strips of the skin off, slice the ends off (do not discard) and cut each in half. You now have 2 halves to core and stuff!

For the onions, cut the ends off and remove the first two outer layers. Drop into a pot of boiling water for a few minutes to make them pliable.

Cut a slit toward the center and remove "leaves" of layers to stuff.

Use a spoon to core the center pulp out and collect in another bowl to add to something else, like

my favorite quinoa salad

.

Before stuffing them, plan out how the vegetables will fit into the pot. Place them snug against one another as they will shrink in the cooking process when they look some of their water content.

Stuff with filling, top with cap and nestle into the sauce.

Add a cup of water and drop knobs of 1 stick butter on top.

Put the lid on pot and transfer to over a lowest flame for about 90 mins, until fragrant.
Serve with bread, yogurt and or rice.