Let's Party!
I love this time of year when the leaves turn golden and a chill sweeps through the air, but mostly because it's the season we celebrate childhood, starting with Halloween. My parents were always strict with what we were allowed to eat, but keeping our trick-treating loot was an annual exception. Daisy absolutely loves the idea, hopping from house to house with my big Hello Kitty handbag and getting free treats from our neighbors.
This year I had a very clever idea and proposed having a candy-exchange Halloween costume party instead of going trick-treating. Well, no sooner had the words left my mouth that Daisy countered with "Mama, we still go trick-or-treating, too, ok?" Well that blew up in my face, but I love planning a creative party.
That being said, there is so much you need to think about when organizing a party! A friend of mine always throws amazing Halloween parties for the grown-ups in her backyard. She invites hundreds of people every year and so the caterers and the portable toilet hire company have to be contacted months in advance. You cannot throw a successful party of that size without organizing adequate amenities after all. It goes without saying, but hiring enough toilets is fundamental! I cannot wait to see what my friend pulls together this year, but I hear she's going for a Nintendo theme where everyone dresses as characters like Toad, Mario, Peach or Bowser. Themes can be so fun at Halloween and helps to mix things up a little from the usual zombie-fest. A Nintendo theme also offers a super-simple way to plan activities, as all they'll need is a Wii and a few games like Mario Kart and Super Mario 64. It'll keep the kids entertained for hours!

Anyway, as for our own party, we don't like creepy, but we love cute for everything from costumes, food, treats, decorations, and activities. Obviously, no Halloween party would be complete without some spooky decorations and lighting. Last year, my friend purchased a personalized neon sign from Neon Mama. That allowed her to display "Happy Halloween" on her wall in a number of bright colours. That looked amazing, so it's something that I'm considering for my party. I also have lots of other decorations and ideas, so I'm excited to finally get this event going. Let's set the scene for a fun and festive Halloween Party!
Click on a pic to take you to the details.
Spooky Food
Food is my favorite subject. It's not a party without yummy things to eat, right? I went online for inspiration and most of what I found was for sweets. Keeping things as healthy can be tough. Here are some great ideas I'm putting onto the table.
Getting the kids to eat vegetables is usually a chore and we're always looking for ways to sneak some greens into their tummies. This cute owl veggie tray draws a lot of attention, even from the little ones. It's both decorative and delicious!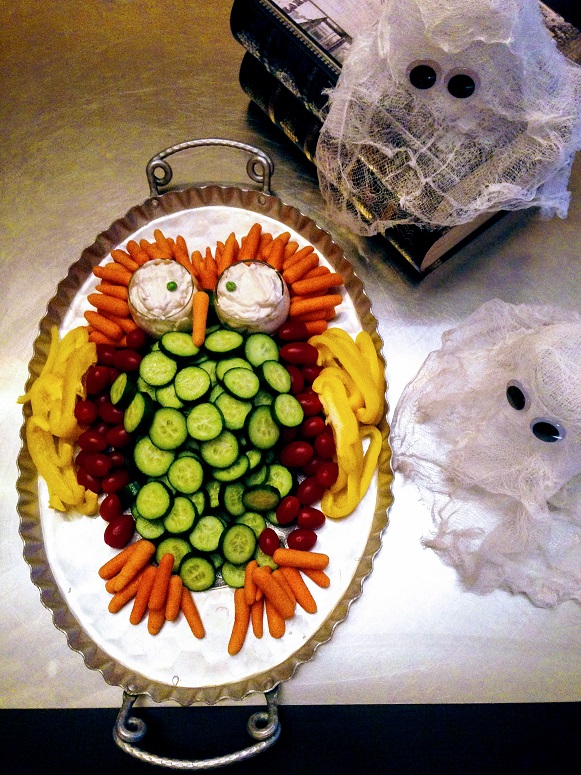 Chattering teeth always crack me up, a classic trick grandparents use to make little ones laugh. This snack is the healthiest and cutest thing ever and so much fun to make. Get the kids to help. All you need are some red apples, mini marshmallows and peanut butter.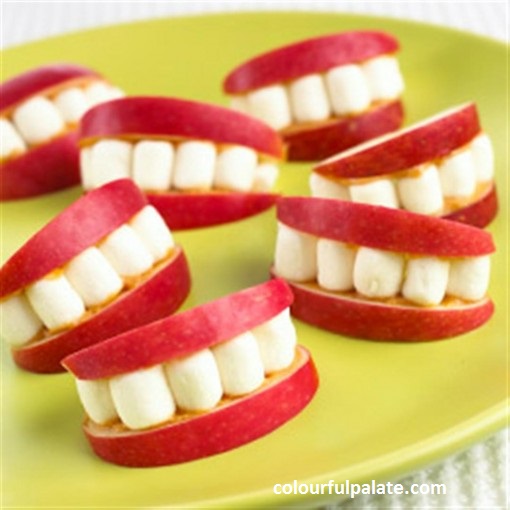 Deviled eggs got a captivating look with a few simple tricks and the results are so delicious.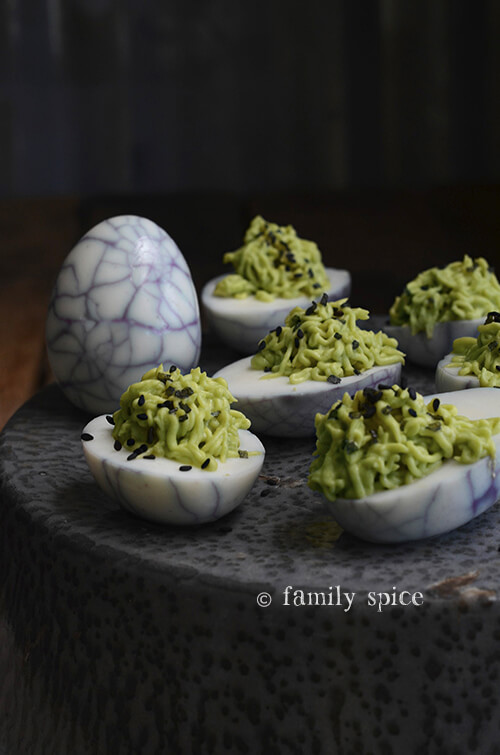 Phyllo-pretzel broomsticks are the most adorable way to mop up yummy dips!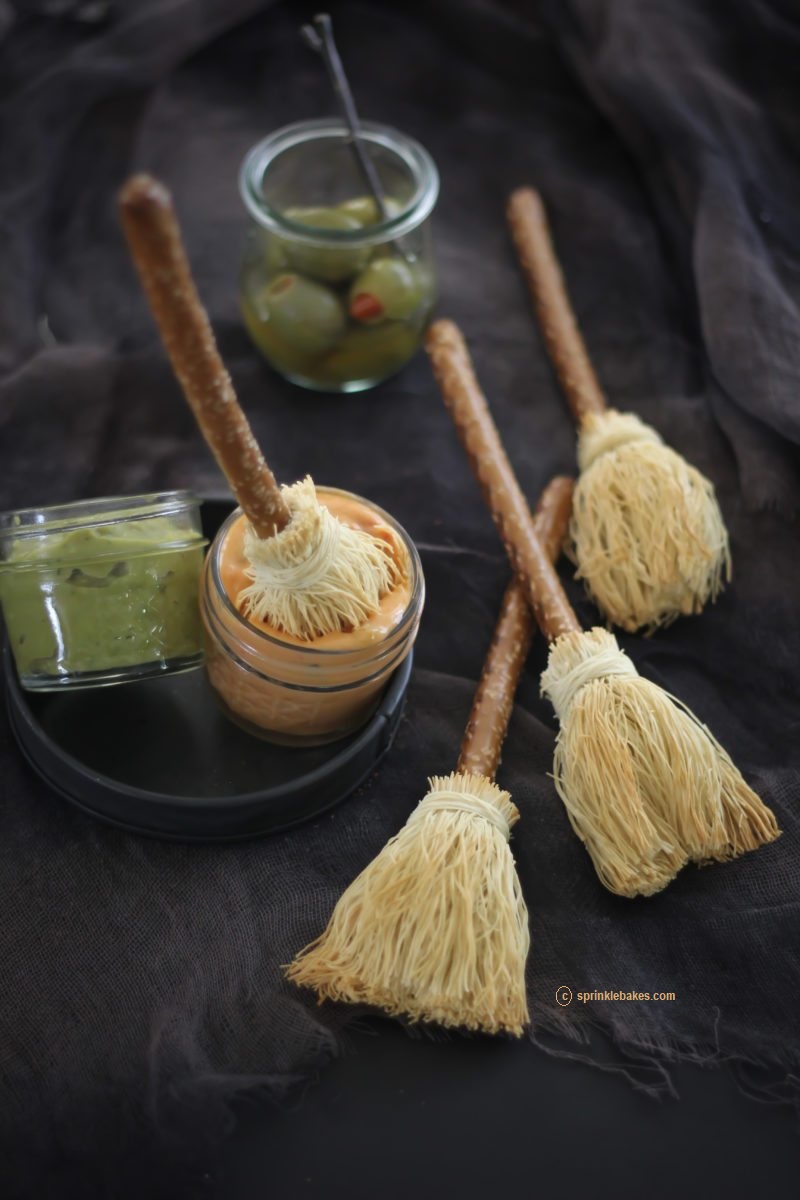 I'm a bit mummy-crazed this year. My costume goal was to dress up as Cleopatra's mummy, but it's been so hot lately that wrapping myself up in strips of fabric is the last thing I want to do! These cute hot dogs, though, make the sweetest snacks. All you need are some good hot dogs, crescent roll dough and sugar eyes.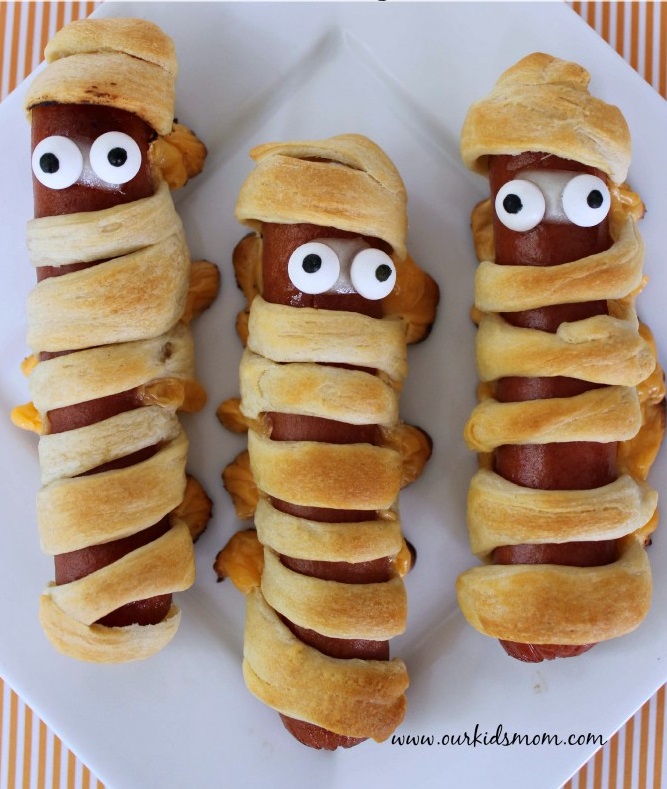 It's not a party without pizza and this Halloween, mummies are everywhere! English muffins, pizza sauce, mozzarella string cheese and black olives make tasty and cute little pies!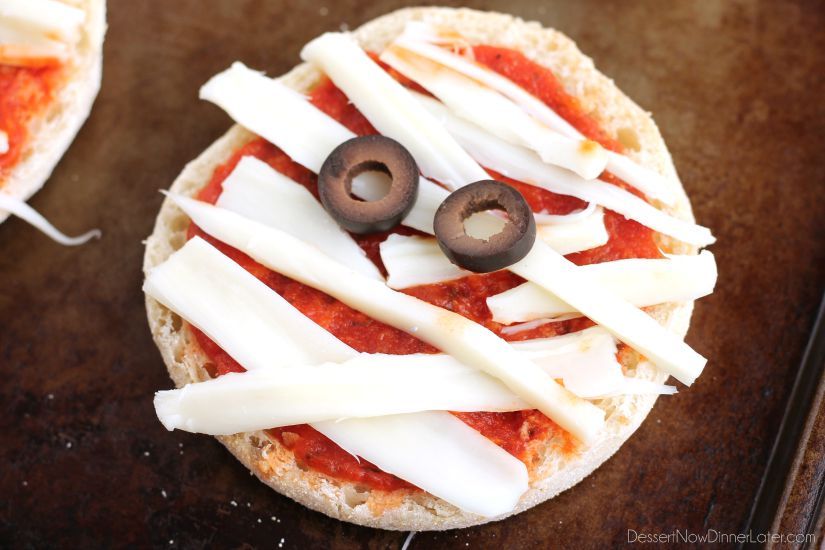 Getting the kids to eat their greens is so easy with this emerald soup. A raisin trimmed to look like a spider rests on a luscious sour cream web. This would make an impressive appetizer to a festive dinner party for adults, too.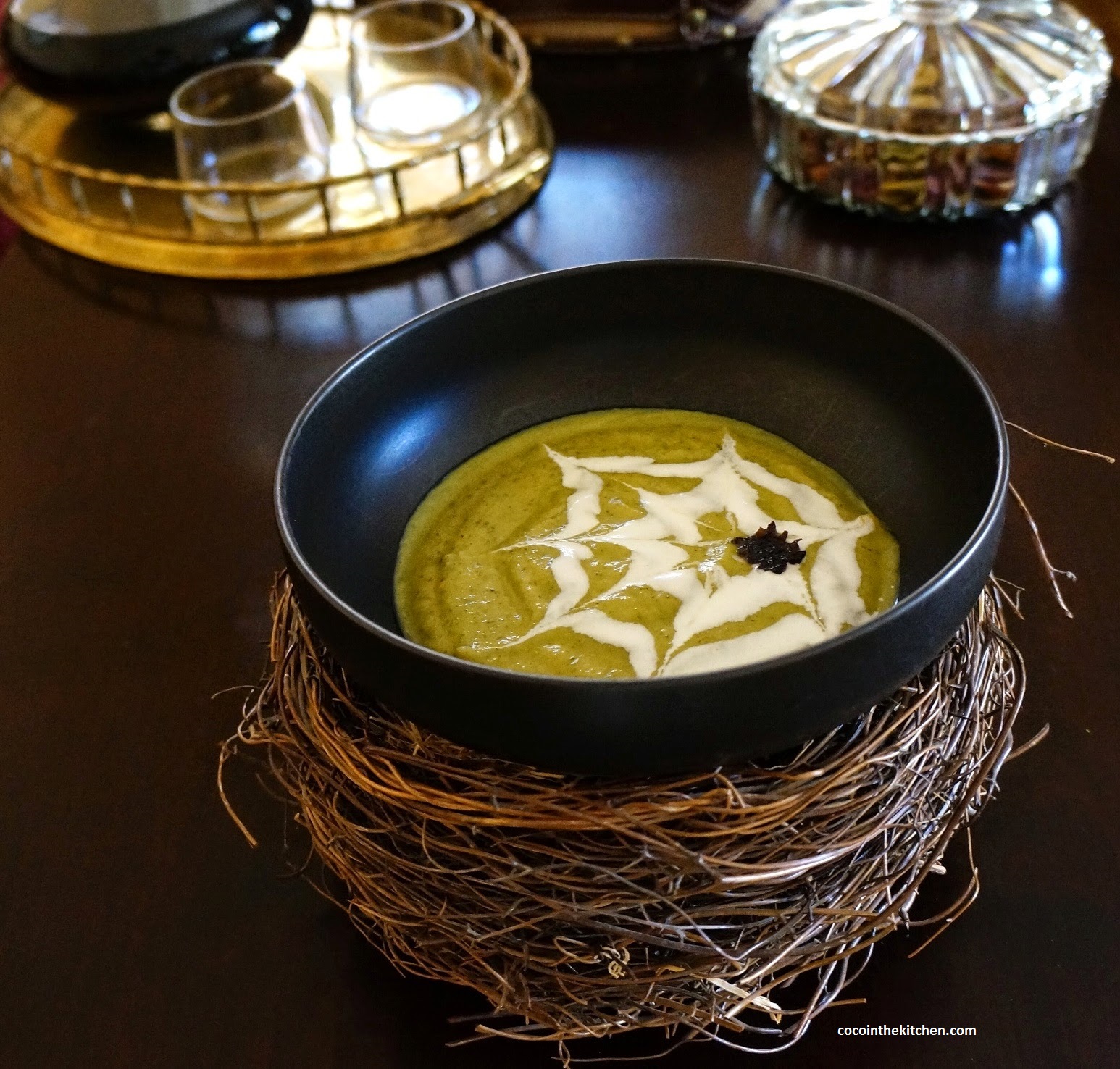 Terrific Treats
I did it. I couldn't resist. Baskin-Robbins makes the absolute cutest monster ice cream cake. This little guy is going to make all the kids squeal with joy!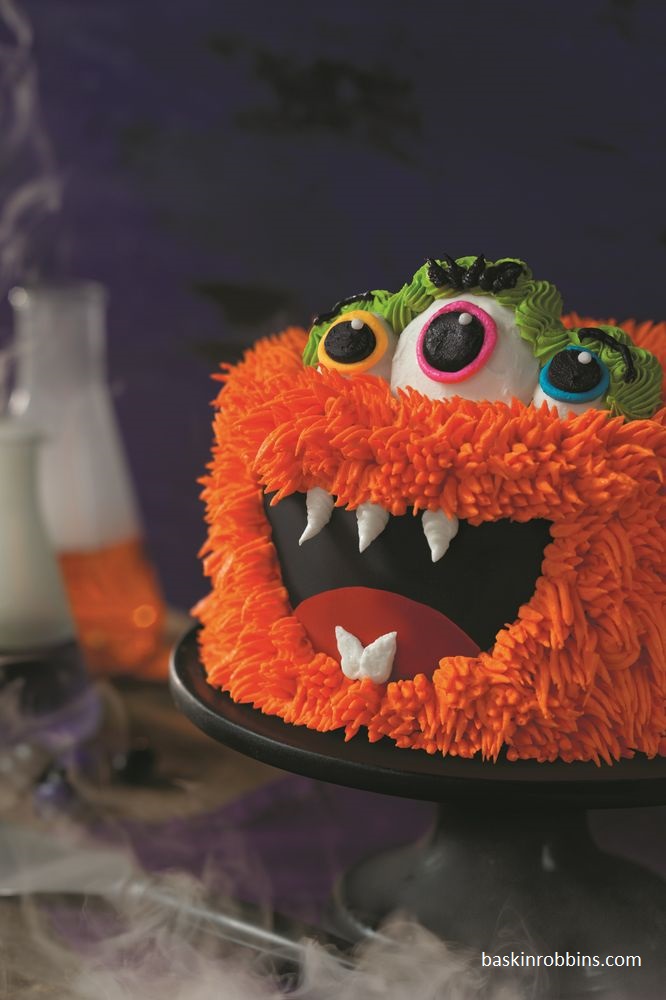 More mummies, tasty ones for those who have a sweet tooth. I didn't used to like white chocolate, but now I love it! Here's why.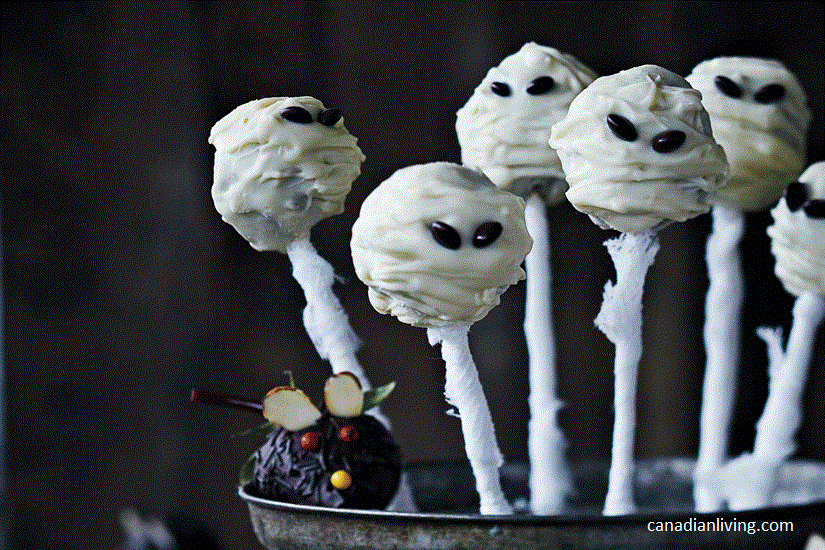 I lost it when I saw these adorable melted witch chocolate, cookie, pretzel barks. I ran to the market and packed my cart full of oreos, kisses, pretzels, chocolate chips, candy melts and mini peanut butter cups. Wanna come to my house and make these with me? I have enough to feed the entire city!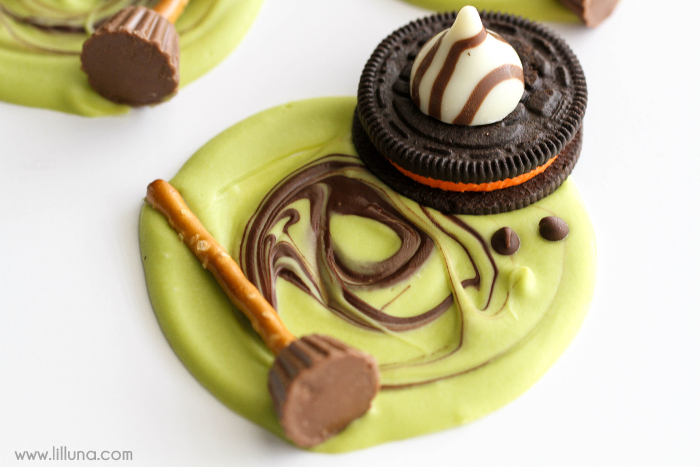 Turn store-bought donuts and donut balls into spooky characters!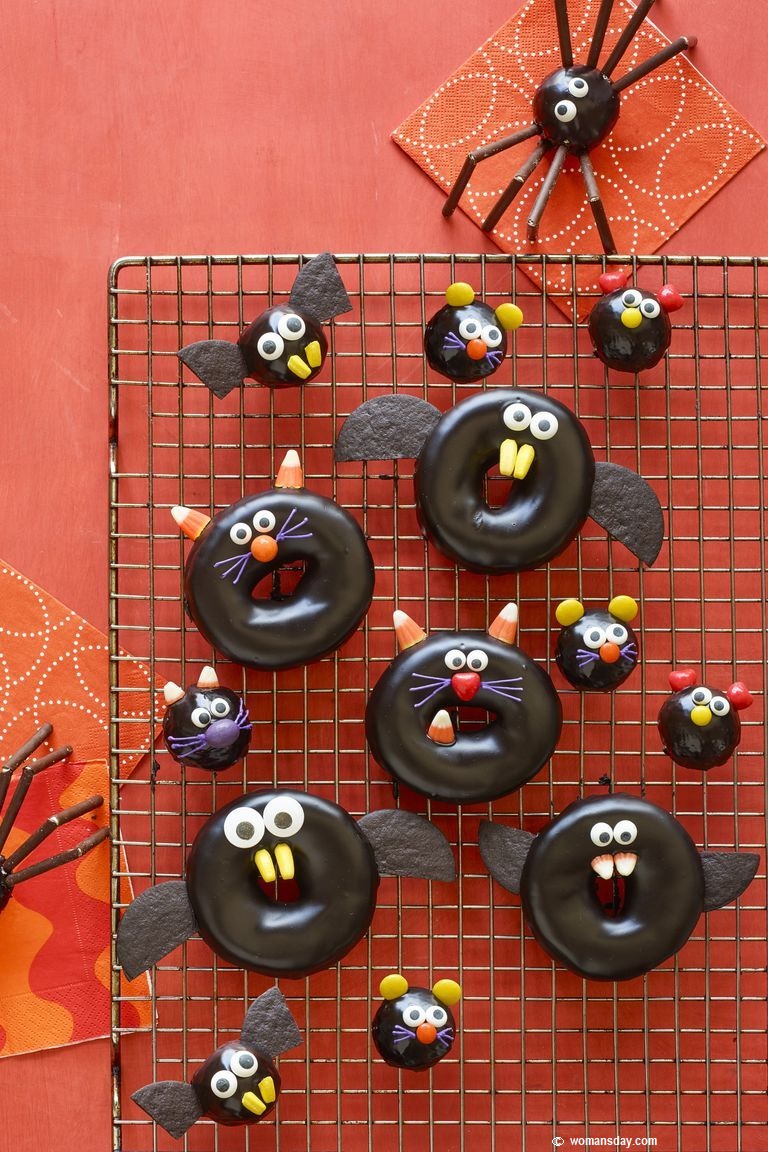 Daisy goes nuts for marshmallows. These Frankenstein pops are just too adorable and so easy to make, ANYONE, even I could pull this off!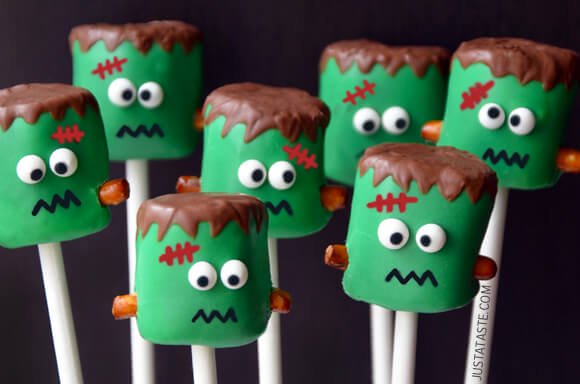 I made chocolate acorn cupcakes with cream cheese frosting these several years ago and I make them every Autumn. They're so festive and scrumptious.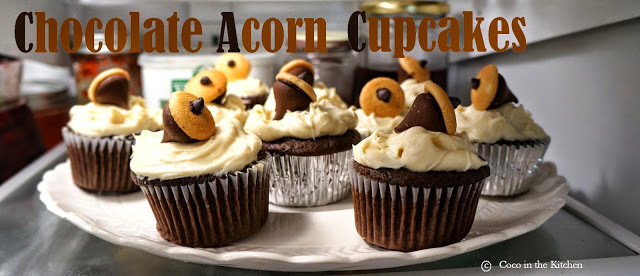 This is another way to save time setting the table. Some fresh, store-bought powder donuts with either black frosting or mini chocolate chips for eyes instantly turn into the sweetest ghosts ever.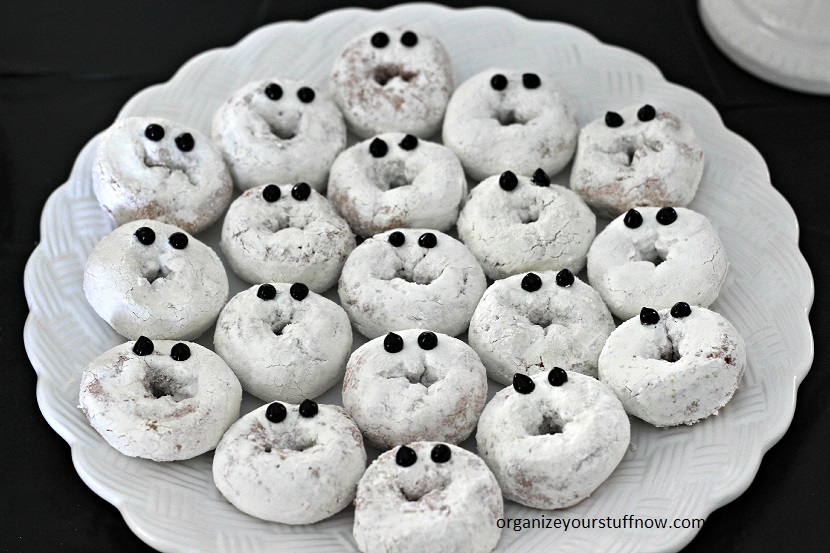 An easy and quick craft takes a foam pumpkin painted bright blue with a couple of ping-pong balls for eyes and make it the cutest Cookie Monster centerpiece for offering store-bought chocolate chip cookies. Don't forget to dress up and join the fun!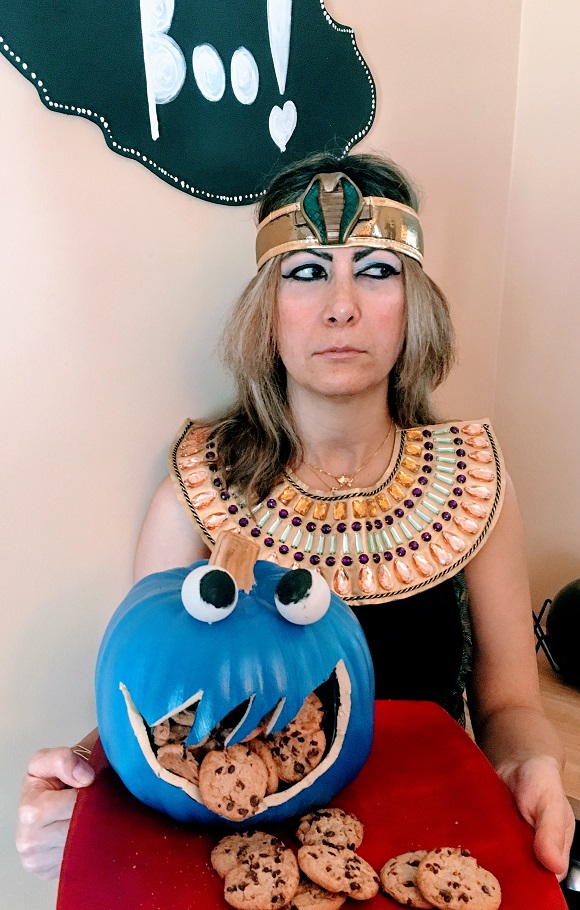 I only need one chocolate malt candy for this little guy. What will I do with all the rest?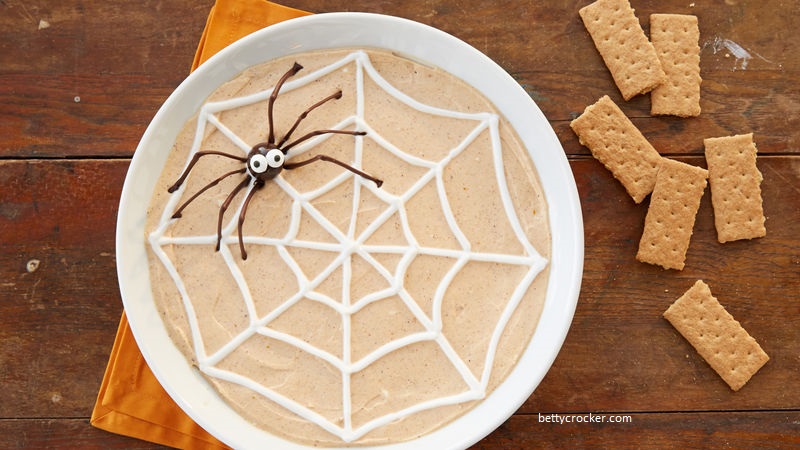 These oreo owl cupcakes are a favorite at our home and return every Fall. Last year, Daisy helped make a bunch to take to the Halloween party at her karate school. This years, she's helping make them for our party at home. Grab some Nutella for frosting!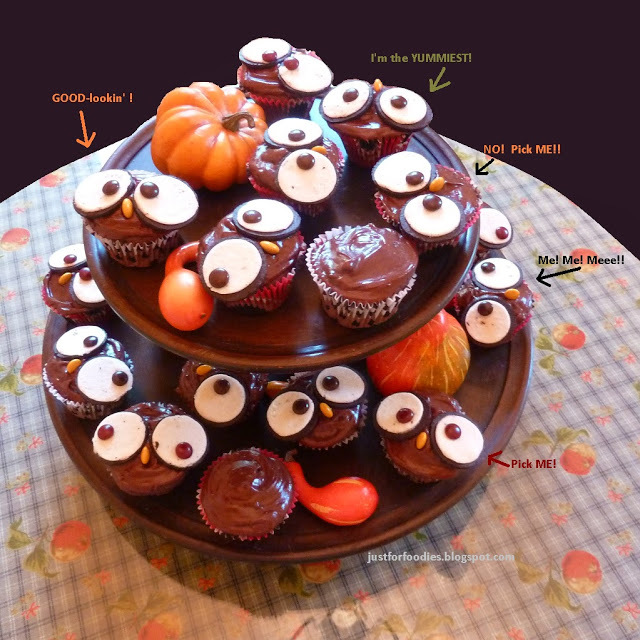 Setting the Scene
Everyone looks forward to the food at a party, but there's more to setting the scene than just what's on the table. Don't forget the music! Classic tunes like The Monster Mash and tracks from It's The Great Pumpkin, Charlie Brown add to the festive Halloween spirit. As for eye candy, the stores are bursting with both cute and creepy decorations, but there's nothing sweeter than those you made yourself. Grab the kids and try these!
The Decor
This morning, I was up before the rooster. I was just too excited to make these ghosts. You need cheesecloth, spray starch (in the laundry aisle) and some googly eyes or black paint. I improvised for the shaping and propped a pomegranate from our garden on top of a water class, scrunched a piece of foil over it, draped scraps of cheese cloth over the foil and sprayed with starch. I left mine under the sun in the backyard to dry, but moved things along a bit with a hair dryer. When I get home from the office tonight, I'll glue googly eyes for the finishing touch!

My friend Janine at the Happy Happy Nester comes up with the most creative decorating ideas. Hop over to her site to see what she's done with her front porch in addition to these sleeping paper bats.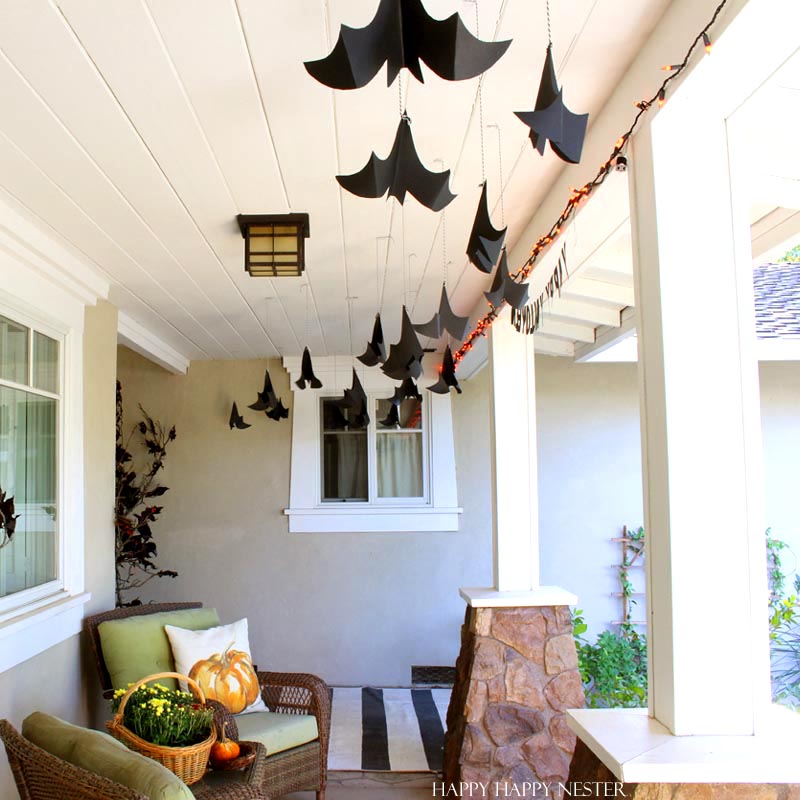 These cute pipe-cleaner spiders are so fun and easy to make. We have 3 hanging from our dining room chandelier now. The hold onto decorative webbing nicely, too. Click on the little guy below for the instructions!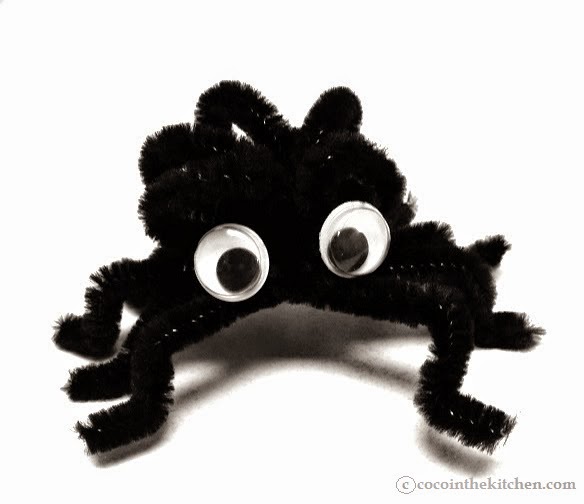 Last year, I took an old sheet and cut it into 3 large pieces. Then, I sneaked off with 3 of Daisy's balls, each a different size. Some ribbon and black paper gave each one a face. The girls have long lashes and cozy neck scarves. The dashing gentleman has a very handsome mustache and bow tie. My family of ghosts has returned from the attic to join our Appalachian duo on the front porch to welcome our guests!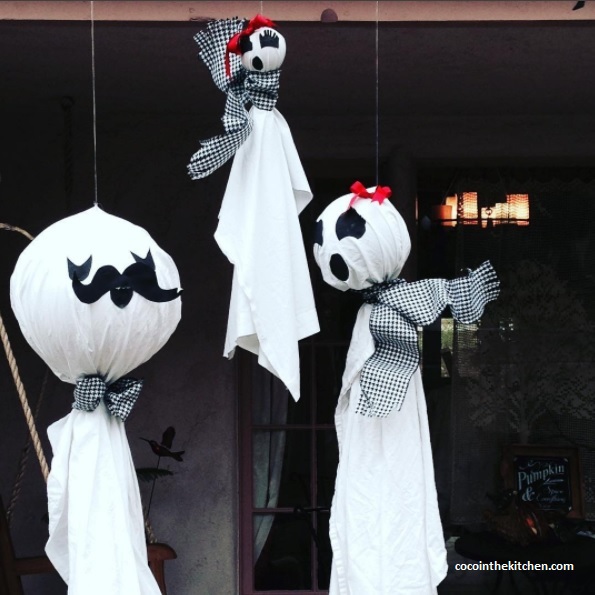 Bring the mad scientist home with some magical potions! Filling laboratory glassware with dish soap, water and a few drops of food coloring for a quick and safe display of chemical concoctions.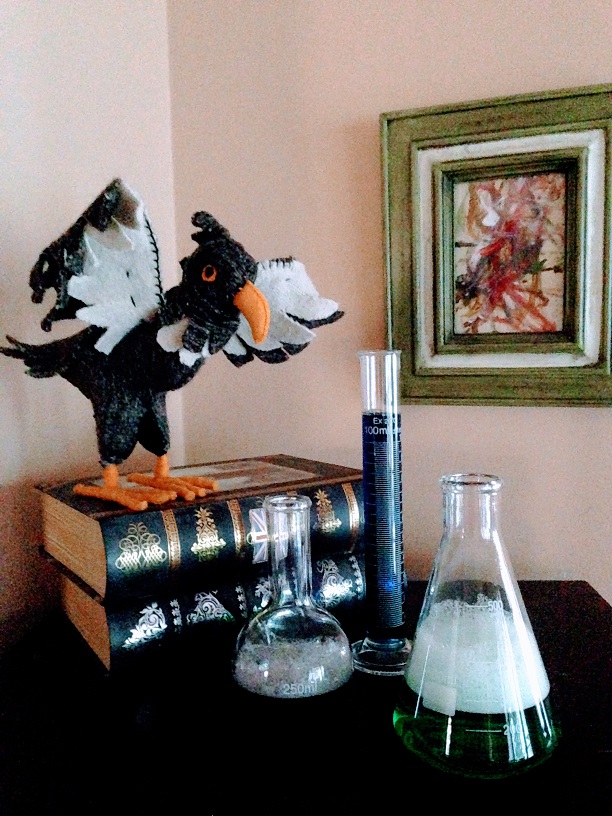 Go through your kids' toys and find mythical creatures like dragons. Remember, Halloween is all about fantasy and dressing up. Let your imagination run wild.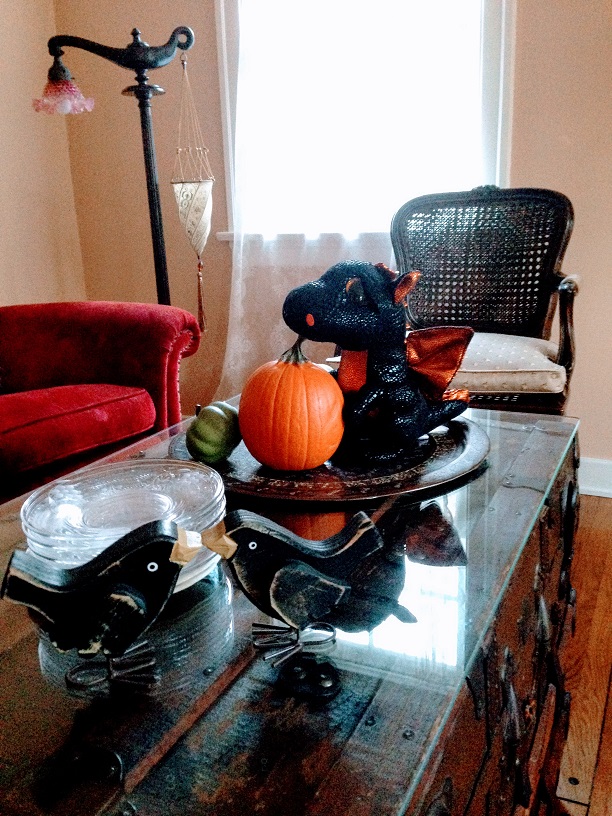 The Activities
I really wanted to do an good old fashioned apple bobbing contest, but even Little Miss thought the idea of getting everyone's head wet may not be the most practical idea. We'll be painting pumpkins, instead, but everyone will be covered in glitter!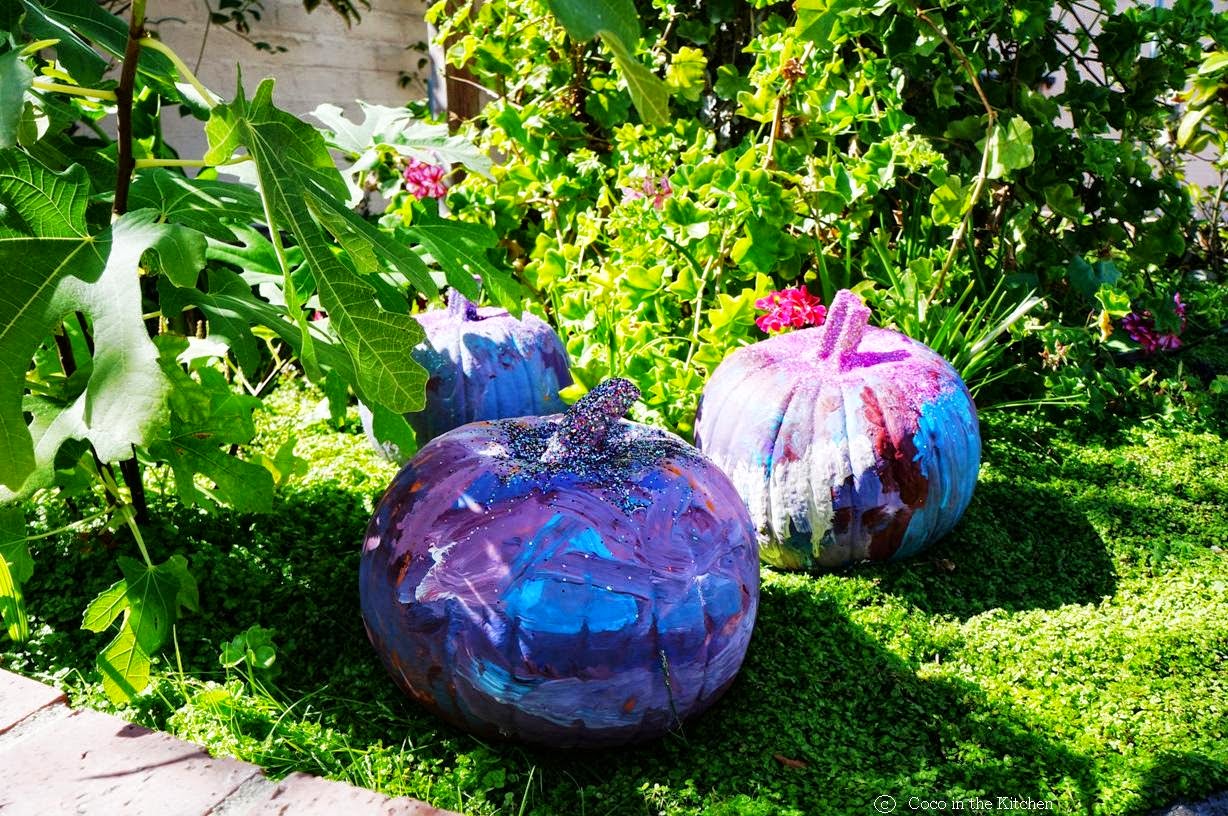 Ordinary lunch bags become the cutest witches brooms to hold party favors! Set up a treat table near a craft table. Then, get the kids to decorate and fill their own.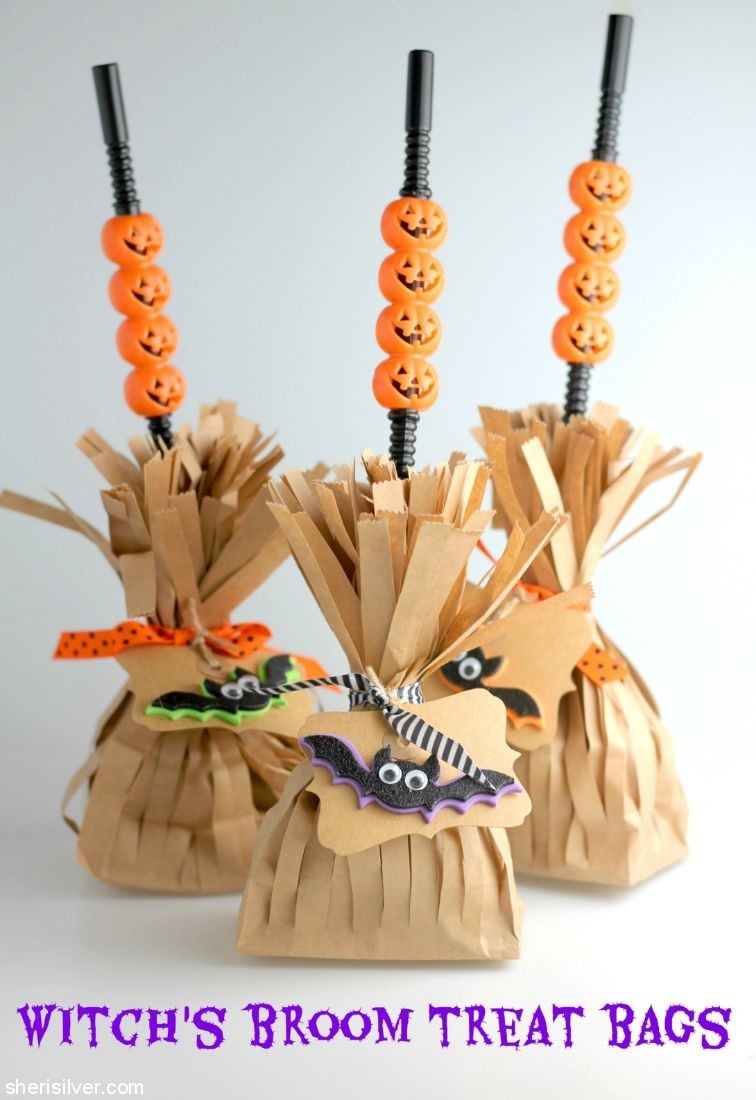 Gingerbread houses aren't just for Christmas. Here are some ideas for Halloween!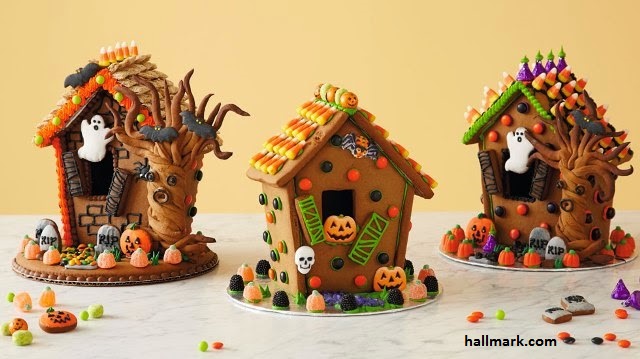 The kids are going to have a blast making a small bat family out of wooden peg dolls, acrylic paint and black felt. They'll have something extra special to take home as a momento.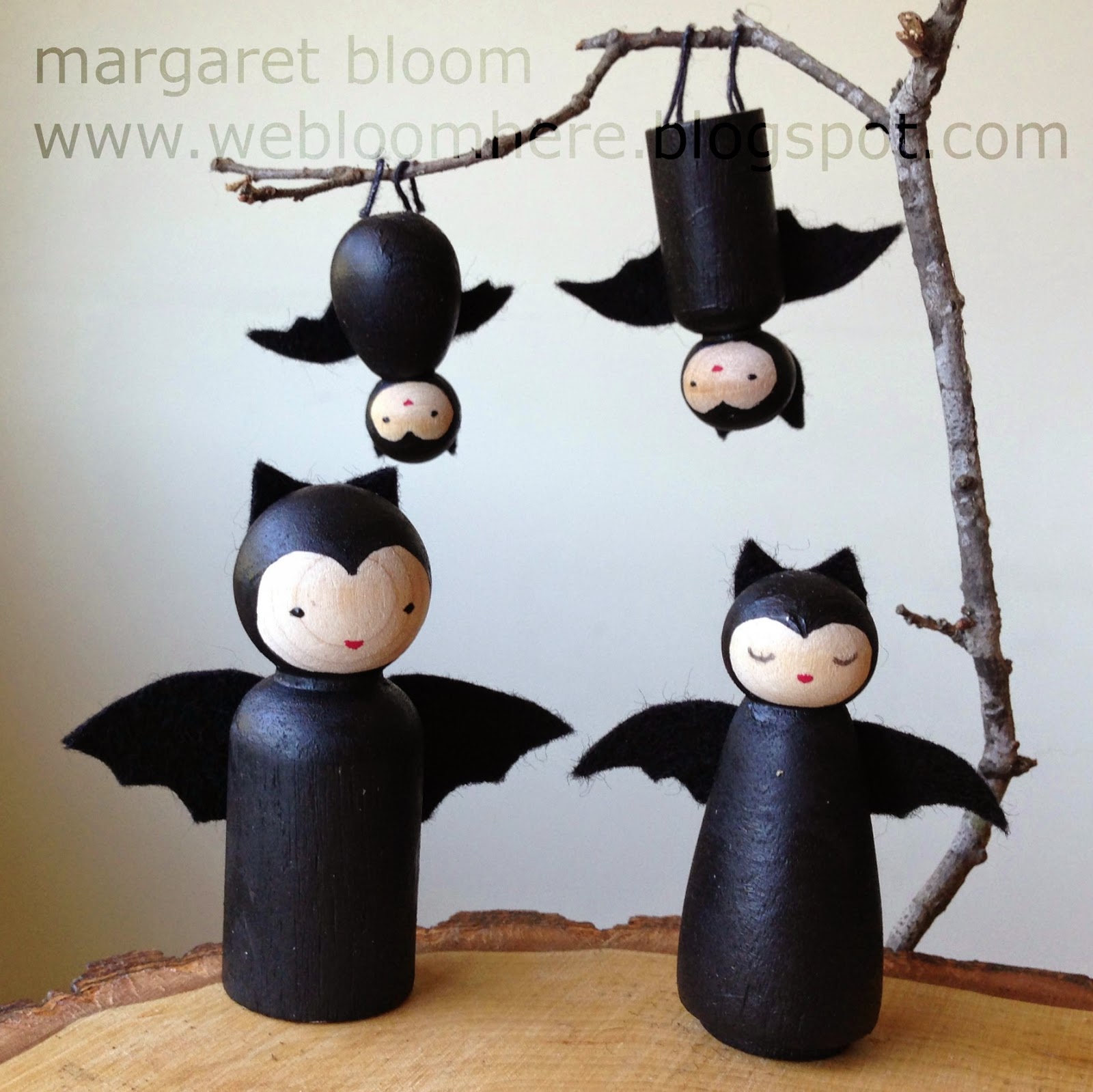 Party Hearty, Marty!
Many things can affect how successful a party is, but the key to a great gathering is the mood of the hosts. If you are relaxed, your guests will be relaxed and you're going to be relaxed if you're prepared. A table of delicious food, festive decorations and fun activities guarantee everyone has a great time and looks forward to your next event!
FOOD
Chattering Apple Marshmallow Teeth
Deviled Spider Eggs
Mummy Hotdogs
Mummy Cheese Pizzas
Spooky Soup
Monster Ice Cream Cake
No-bake Mummy Cake Pops
Melted Witch Bark
Spooky Donut Critters
Phyllo-Pretzel Brooms
Mummy Truffles
Frankenstein Marshmallow Pops
Ghost Donuts
Oreo Owl Cupcakes
Spider Web Cheesecake
DECOR
Floating Cheesecloth Ghosts
Black Paper Bats
Pipecleaner Spiders
ACTIVITIES
Painting Pumpkins
DIY Witch's Broom Treat Bags
Haunted Gingerbread House Kits
Pegdoll Bats