Just in time for St. Patrick's Day are these luscious Chocolate Guinness Cupcakes topped with a rich ganache and fondant four-leaf clover with a touch of gold from that pot at the end of the rainbow!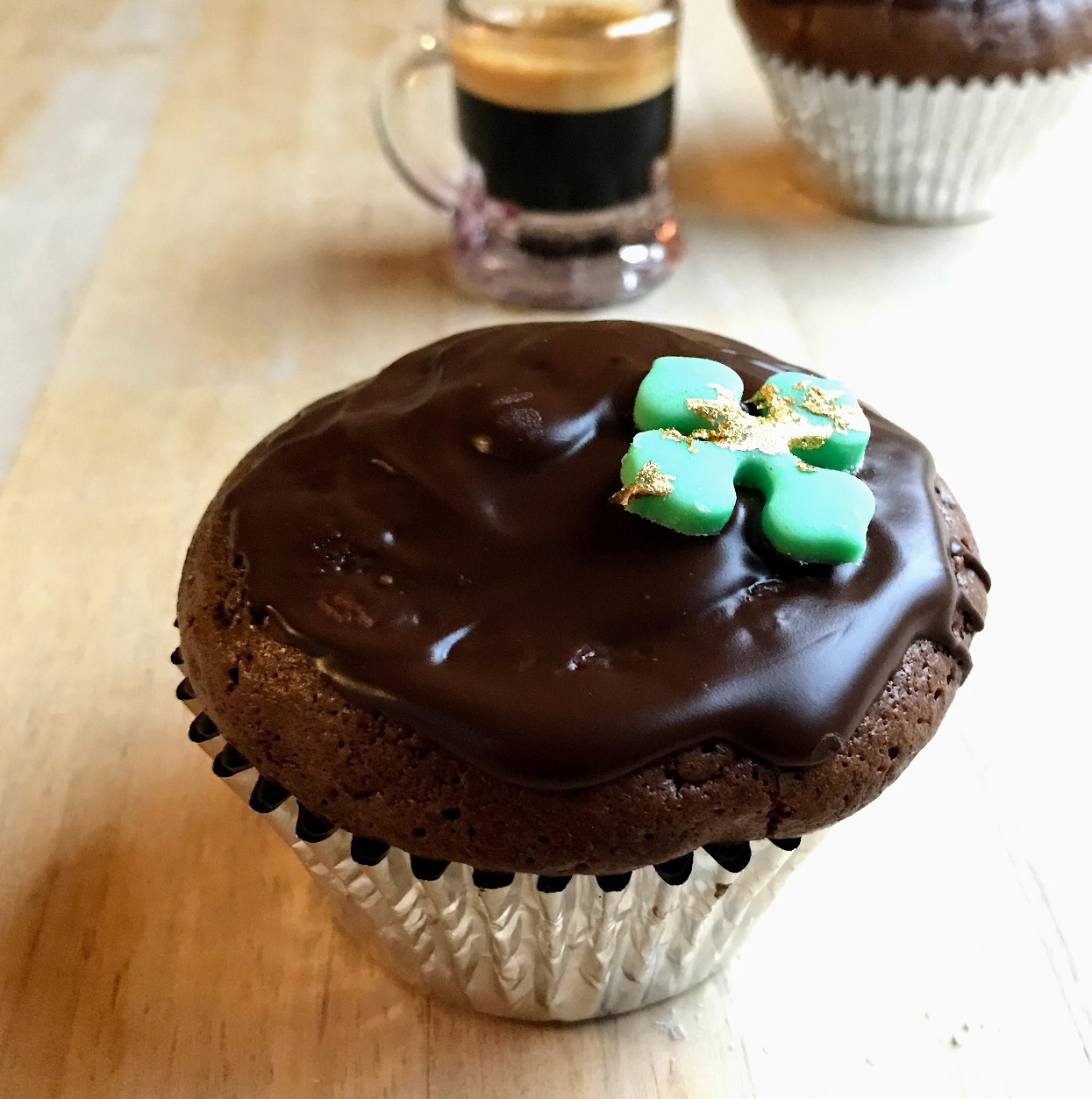 A Wee Bit O'History
The coffee flavor from stout comes from an accident in 1799 when a brewer in London burned his hops, but didn't want to waste the batch. So he sold it to porters who fell in love with the slightly bitter, rich flavor. The porter, as it was called, grew popular and reached Arthur Guinness in Ireland who dropped ales and started making his famous stout which is a porter without the malt.

Word of the Day
por·ter /ˈpôrdər/ noun
1. a person hired to carry luggage and other loads, in a railroad station, airport or hotel.
2. dark brown bitter beer brewed from browned or charred malt
I have been searching for a moist from-scratch chocolate cake recipe with a delicate crumb and I've finally found it! We've banned cocoa powder which is usually the cause of dryness.  Also, there's no leavening (baking powder or soda), which means these Chocolate Guinness Cupcakes have a rich, brownie texture.
Chocolate Guinness Cupcakes
Makes: a dozen cupcakes or one 6-cup Bundt cake
Prep: 10 mins
Oven: 350 *F
Bake: 30 mins
Ingredients
Cake
1 stick + 2 Tb butter
2 cups chocolate
1/4 cup Guinness (drink the rest while baking)
1 tsp vanilla
pinch of salt
1/2 tsp ground espresso or instant coffee
4 free-range eggs, @ room temp
3/4 cup sugar
1 cup flour
2 tsp baking soda
3/4 cup mini chocolate chips

Ganache
6 oz chocolate
2 Tb butter
Fondant Shamrocks
Wilton white fondant
Green food coloring
Shamrock cookie cutter
Flour or cornstarch for dusting
Rolling pin
Gold leaf
Food-safe paint brush
Instructions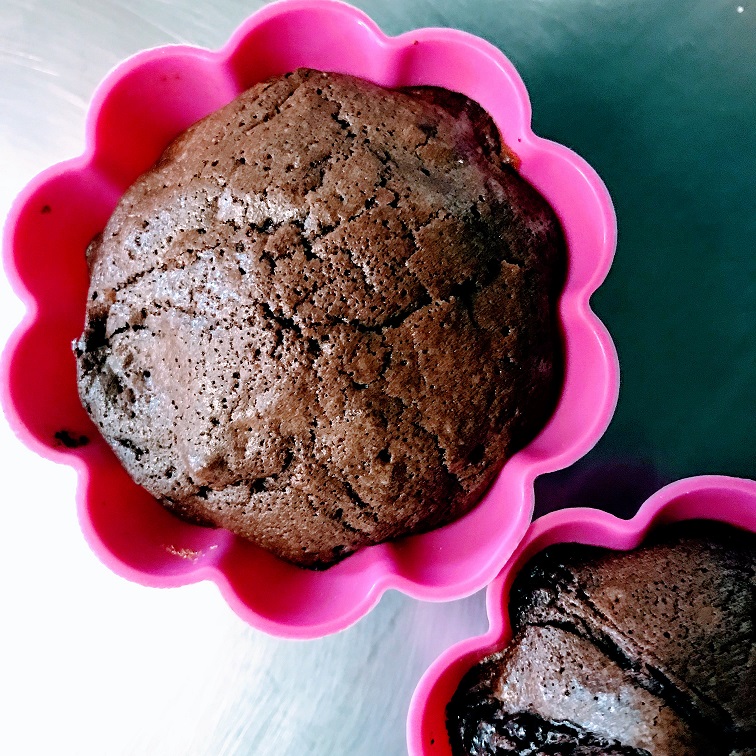 Line a cupcake pan with paper cups or butter and flour a Bundt pan. Set aside.
Melt butter and chocolate til smooth, either over a bain-marie or in 15-second bursts in the mic.
Add Guinness, vanilla, salt and espresso to the chocolate and stir well.
Preheat oven to 350*F.
Beat eggs, sugar and vanilla til light and fluffy.
Slowly drizzle the chocolate mixture into the egg mixture.
Combine flour, baking soda and chocolate chips.
Gently fold flour mixture into the batter by hand.
Divide among cupcake cups or pour into prepared cake pan.
Transfer to hot oven and bake 30 mins.
Remove from oven and wait 10 mins before turning cake onto a metal rack to finish cooling.
Meanwhile, make the ganache topping and fondant clovers.
Melt 6 ounces of good quality chocolate with 2 Tb of butter.
Stir til smooth and let it cool for 5 mins.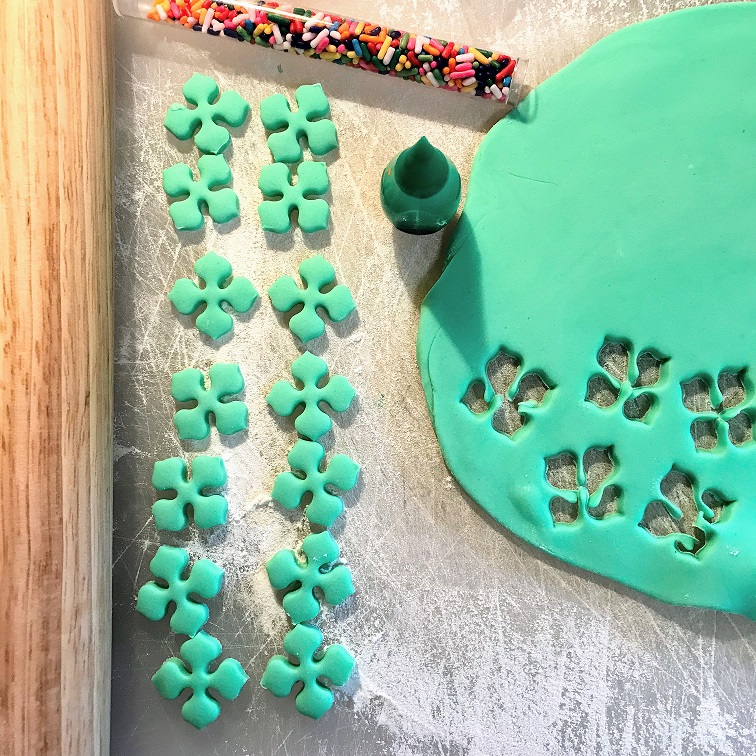 Take a handful of fondant and add 5-8 drops of green coloring.
Knead to blend color into the fondant. Add more coloring to get the hue you like.
Dust a clean surface with a tablespoon or two of either flour or corn starch.
Roll fondant to 1/4-inch thickness.
Use cutter to cut out shapes.
Dab a piece of gold leaf with a paintbrush.
When the cake/cupcakes have cooled, top them with ganache and decorate with a shamrock!
Whether you make individual cupcakes or one Bundt, you'll win the favor of leprechauns and the luck of the Irish will follow you this St. Patty's Day!