Finally, the weather has turned in my favor. A gentle drizzle greeted us this morning and all I could think about was cooking something cozy, like Chicken Pho with a side of sweet-tart shallot chutney. What in the world would an Armenian girl know about Pho? Well, nothing, perhaps, except this girl has a Vietnamese brother. He's my best friend from work who's always feeding me delightful dishes from his mom's kitchen, inspiring me to try my hand at making them myself.

The key to a delicious pho is the broth, fragrant from the herbs and spices, salty and pleasantly spicy. What goes into it really matters. This is clean eating at its best, packed with wholesome goodness.
A little-known trick is the fire-roasted onions and ginger which lend a subtle smoky note. Ideally, this would be done over coals, but since I was short on time and my grillmaster (aka hubs) was out of town, I just tossed mine onto the stovetop burner and let them blister nicely. I'm really good at burning stuff.

About Fish Sauce
Essential to authentic overall flavor of certain Thai and Vietnamese dishes.
Smells like feet. (I'm being polite – it's much worse.)
Use very sparingly
Get quality stuff (clean jar, nothing floating in there)
The noodles are lovely and this dish is effortless gluten-free!
The best way to eat this soup is with a spoon in the left hand and chopsticks in the right.
The chopsticks are the best way to politely gather the long noodles.
When serving children, it may be wise to cut the noodles into 1-inch segments so they can manage eating them.

Charred Ginger Chicken Pho with Shallot Chutney
Serves: 6
Prep: 30 mins
Cook: 30 mins
Ingredients
Soup
6 cups water
3 lbs free-range chicken (or 6 drumsticks, skinless, bone-in)
salt & pepper
2-inch knob of ginger
2 onions
1 head garlic
2 tsp coriander seeds
1 star anise pod
1 2-inch cinnamon stick
10 whole cloves
3 lemons or limes, juiced
1/2 tsp fish sauce (optional)
salt & pepper
2 large carrots
2 turnips
1 lb rice vermicelli noodles (dried)
Garnish
1 bunch scallions or chives, chopped
1 handful fresh mint
1 handful fresh basil
1 handful fresh cilantro/coriander
2 cups mung bean sprouts
1 lime, sliced
1 tsp red pepper flakes
1 fresh chili pepper
Shallot Chutney
3-4 shallots, minced fine
1 Tb olive oil
1 Tb soy sauce
1 Tb Worcestershire
1/2 lime,  juice only
1 drop fish sauce (optional)
1 tsp brown sugar
pinch red pepper flakes
Instructions
Chutney
Peel and finally mince shallots.
Drizzle olive oil into a small pan and fry shallots.
Add brown sugar, soy sauce, Worcestershire sauce, juice of half a lime and a teensy drop of fish sauce, if using.
Finish with a sprinkle of red pepper flakes
Cool and store in a jar.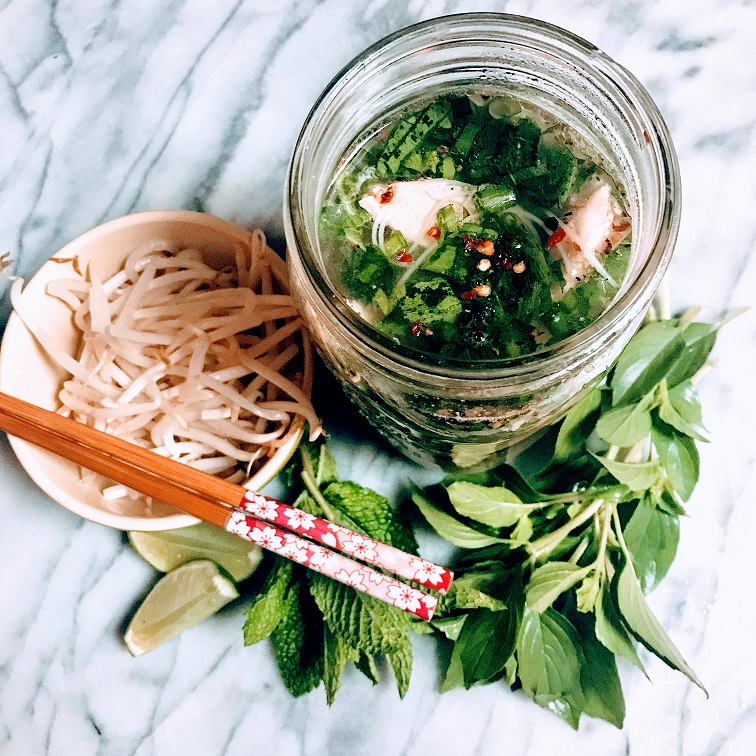 Pho
Fill a very large pot with water.
Season chicken with salt and pepper.
Add to the pot, put the lid on and set over medium-high heat.
Cook 30 mins, skimming the froth from the top with a spoon.
Peel and cut garlic cloves into thin slices.
Meanwhile, peel onions and slice into half.
Char onions and ginger over an open flame or broil in the oven.
Burn the ginger peel until it turns black and paper-thin.
Add to pot with chicken and lower flame.
Add coriander seeds,  star anise pod, cinnamon sticks, whole cloves, lemon/lime juice and fish sauce, if using.
Put the lid on and let it simmer an hour or so.
Remove chicken and set aside onto a plate.
Strain the broth through a fine-mesh sieve, pouring the liquid back into the pot.
Separate the meat from the bone and cut with scissors into bite-sized chunks.
Add chicken to the pot on a low flame.
Peel and cube turnips. Toss into the pot.
Peel and chop carrots. Use a small cookie cutter to cut carrot slices into pretty bits, if you have time.
Warm the soup to a simmer, maybe 30 mins.
Wash, trim, air-dry fresh herbs and arrange onto a pretty plate along with the bean sprouts.
Shortly before serving, taste and season with salt and pepper, if needed.
Add rice noodles and cook til soft, maybe 5 mins.
Serve in bowls with fresh herbs, bean sprouts and shallot chutney.
I'll take mine To Go!