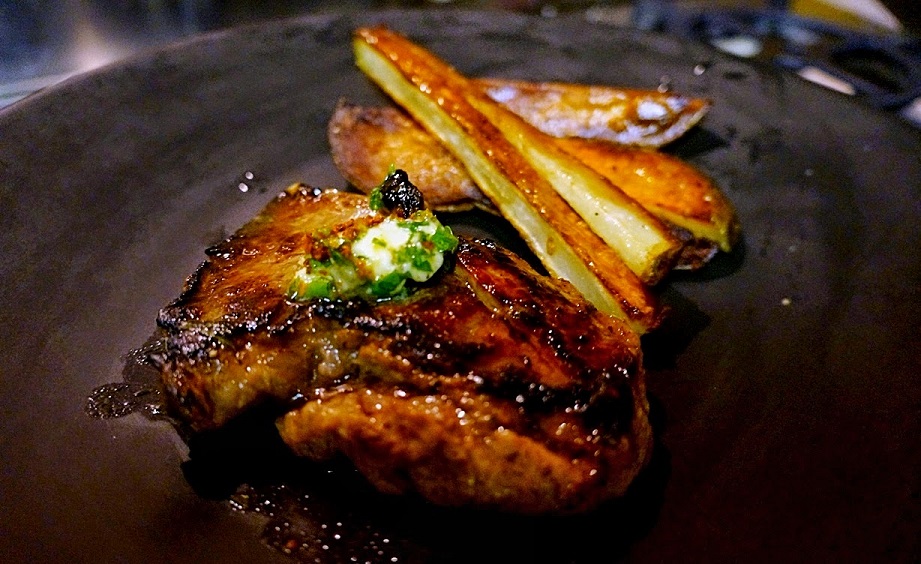 This is one of those times when I wish you were here or that we had Scratch 'n' Sniff  computer monitors, because this is one damn delicious campfire steak rub. A week and three shampoos later, my hair still smells smoky, but I really do not mind. In fact, I wish someone would hurry up and create a perfume,
L'eau du Feu
(Scent of Fire). This is how we like to cook steaks – in our fire pit, over logs, nice and slow, licked by flames.
Deep in the far crevices of our nature burn the embers of our cave-dwelling ancestors. The concept of cooking meat over an open flame dates back to when fire was first discovered. The caveman eventually evolved into the cowboy who added a gritty cup of coffee brewed in a tin pot right over the campfire. The only thing that has changed since then is really just presentation. Dress it up on a pretty plate and have a man in a tux serve it,  you now have fancy steakhouse fare.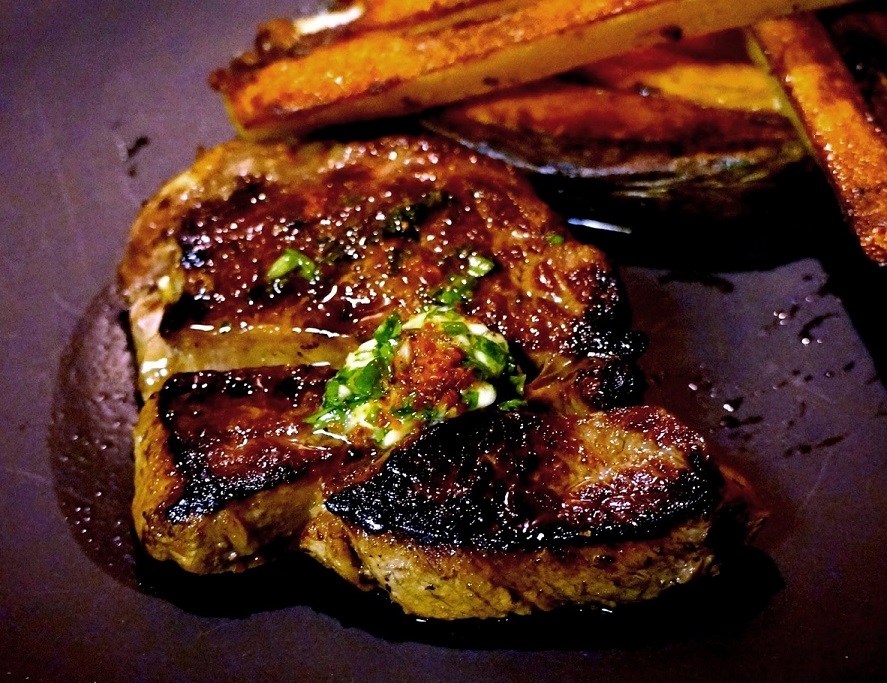 There was a time in my young, bachelorette days when my parrot and I shared a cute apartment with a Dutch door that opened onto a small porch. These were days I could (and would) eat an entire jar of Nutella for breakfast. There was always ribeye marinating in the fridge. It's a wonder how I did not have a heart attack by the time I turned 30.
Nowadays, steaks are an occasional treat. As more health-conscious consumers committed to eating responsibly, more of us avoid large-scale meats at the supermarket in favor of the certified humane, grass-fed varieties.
One early summer evening, we city slickers decided to pretend to be cowboys, even for just a few hours in our own backyard.
You cannot beat camping with all the comforts of home and the best part is we did not have to lug anything around. I must admit, though, that I did miss the night sky dotted with infinite twinkling stars, the smell of pine trees, the gurgling of a nearby stream, but we were lucky to hear the crickets chirping and Daisy giggling.
Shawn set up a tent and manned the fire pit. Daisy was in charge of entertainment, as she always is. The menu was assigned to me and, since life is uncertain, dessert placed first in the plans. S'mores, of course. Next, I had to think about dinner, which called for simple cowboy grub of steaks, taters and corn. Campfire cooking is relaxing and great smoky flavor is a guarantee.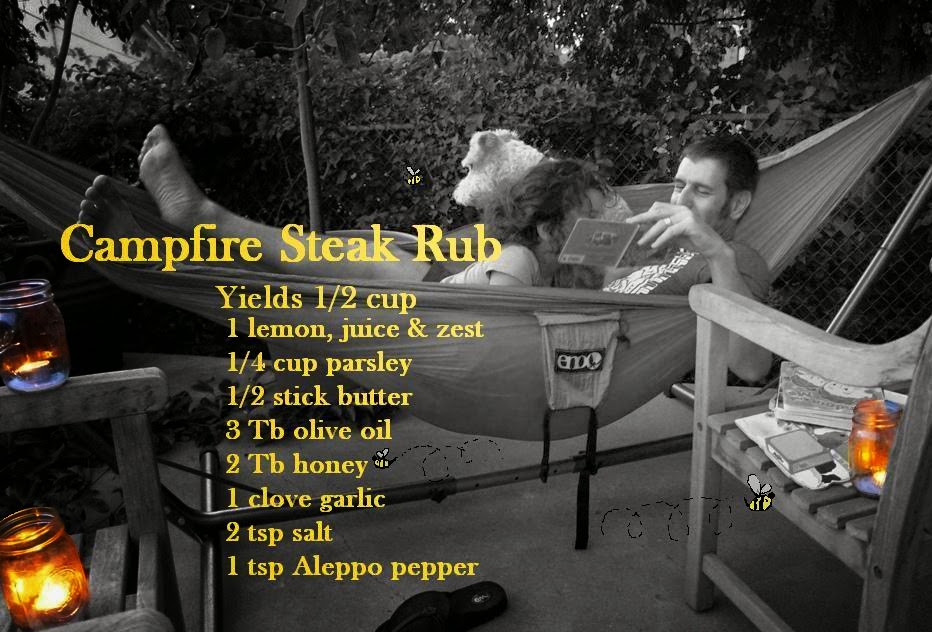 Ribeye is naturally delicious. The marbling adds flavor and keeps the meat juicy while it cooks. It really just needs a light sprinkling of salt and pepper, but I had been in an experimental mood. The indoor version came first, on a rainy night.  A paste of butter, garlic, parsley, lemon and Aleppo pepper with a touch of sweet honey made for a more interesting venue. With its sexy cut fries, it looked considerably more polished than its rough + tumble outdoor cousin, but looks aren't everything. The taste of steaks cooked on a fire is undeniably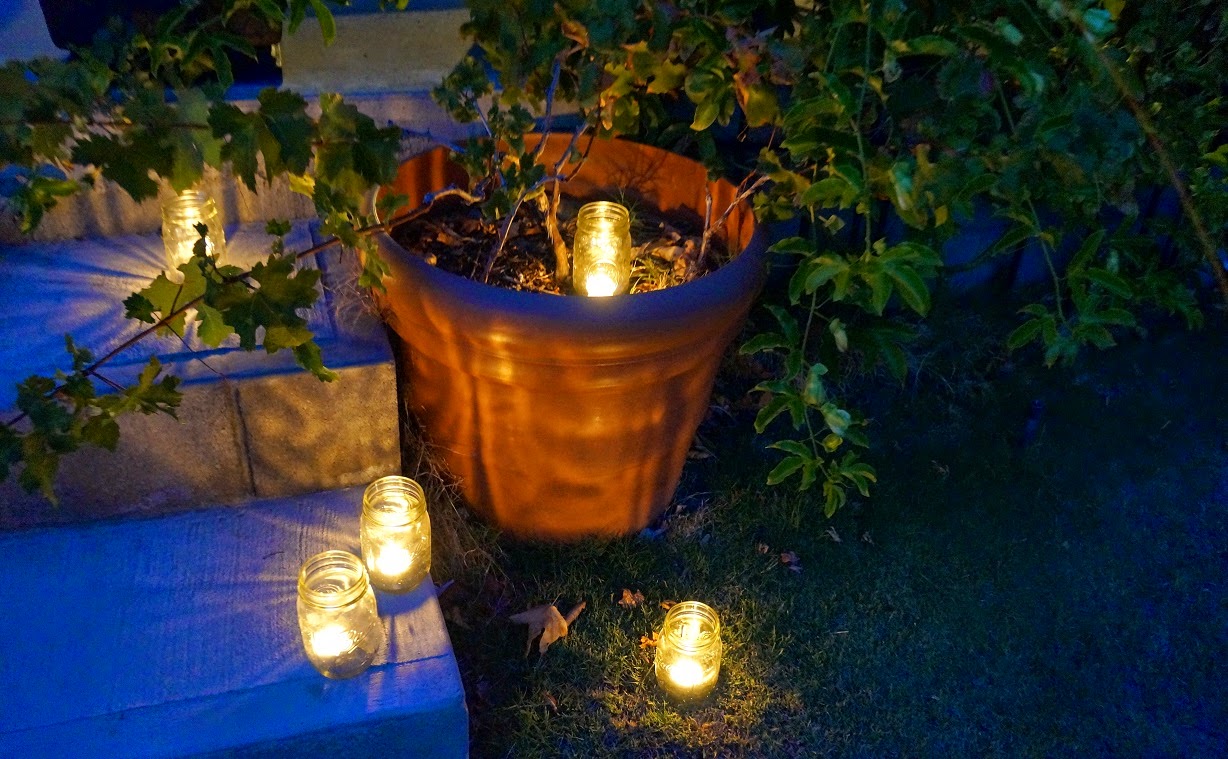 better.
After that first bite, you will instantly turn vegetarian, because you will never, not ever want to eat steak unless it is cooked on an open fire. This is a big claim, but I stand by my word. The Aleppo pepper adds a mild bite and delicious earthy flavour. The honey develops a glossy glaze around the meat and keeps the moisture in place.
There really isn't much of a recipe here. Just mash everything together, rub all over the steaks, then toss them onto the fire. A simple formula anyone can follow and a taste everyone will enjoy.
There was so much going on in our backyard that night. Daisy and Milou ran in and out of the tent, bouncing up and down on the air mattress. Then, before the sun went down, there were bedtime stories in the hammock with Daddy. Marshmallows roasted over that crackling fire made for a sweet finish.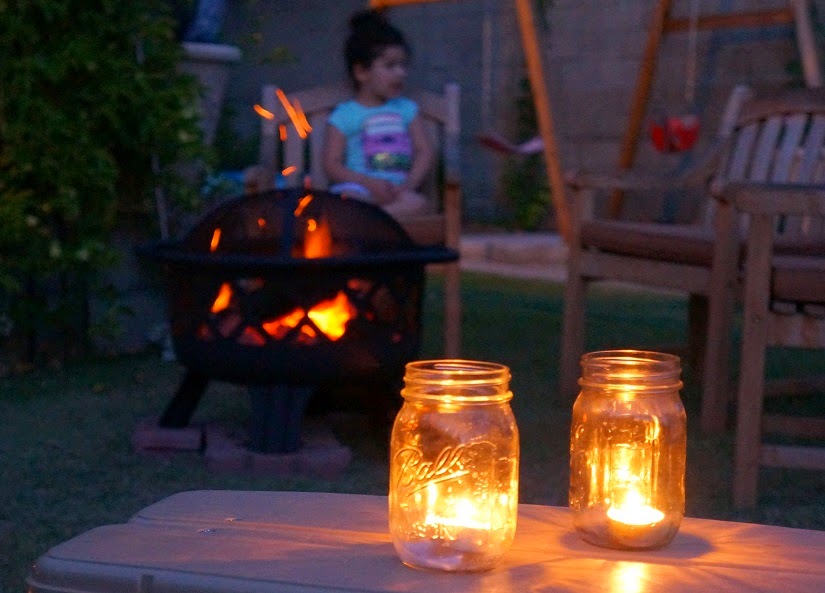 Camping in your own backyard does not qualify as "roughin' it," but, with a toddler, there are always surprises. Daisy had a blast, playing all evening with Milou, running in and out of the tent, jumping up and down on the mattresses. When the sun disappeared, everything changed. She was too frightened to sleep in the dark, despite the numerous flashlights and LED candles we set up for her. So, Shawn and Milou got to enjoy sleeping outdoors, while we girls walked a few steps into the house and retired for the evening. Good thing we had not hauled house and home miles away into the woods.
That fire pit could finally be scratched off of my wish list. We had arrived at an evening long anticipated. The warm glow of the fire against blue twilight made for a most memorable family night. Those honey-glazed smoky steaks were unspeakably delicious. And once you try them for yourself, the Caveman region of your brain will light up like a Christmas tree.