Halloween came and went so quickly. It is so strange that in just one night,  *poof* it is all over. My need to keep pumpkins around is justified as we are still in the midst of glowing Autumn and, with Thanksgiving still to come, the festivities continue. But, I'm wanting something a bit different than the usual reds, yellows and oranges this year….something edgy like pinks and purples or perhaps jewel-tones like precious turquoise and gold. These simply stunning mini pumpkins were a snap to make. So grab the kids and let's make a sparkly mess!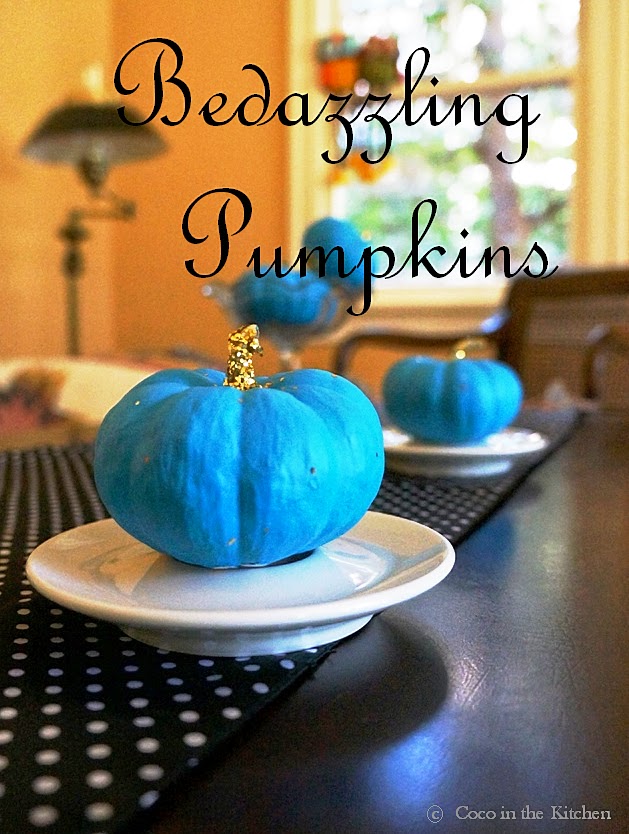 So much planning goes into Halloween…choosing a costume or
sewing your own (if you are daring and armed with a sewing machine), deciding what kind and how much candy to stock up (then fighting the urge to eat the supplies), and, of course, decorating the front porch.
We do not do zombie lynch mob scenes at our house. Our goal is cute and festive, especially since we have little Miss Daisy. Mr.and Mrs. Scarecrow showed up extra early this year in the first week of September.
I propped them up in the garden in front of our big living room window and placed a couple of  fake pumpkins at their feet. They are a welcoming sight as you approach our house.
But, perhaps a bit too welcoming?
A couple of nights ago, I woke up to a terrifying shrieking sound. Milou dashed to the front of the house, barking like mad. I fumbled my way through the dark and could just make out a couple of white stripes wiggling among the roses. There they were, two rascal skunks fighting over those fake pumpkins!
And, you know what happened next.
Yup. The air quickly filled with the delicious fragrance that can only be Eau de Sconse. It is a mystery why they stayed away from the pretty real pumpkins we have on the porch …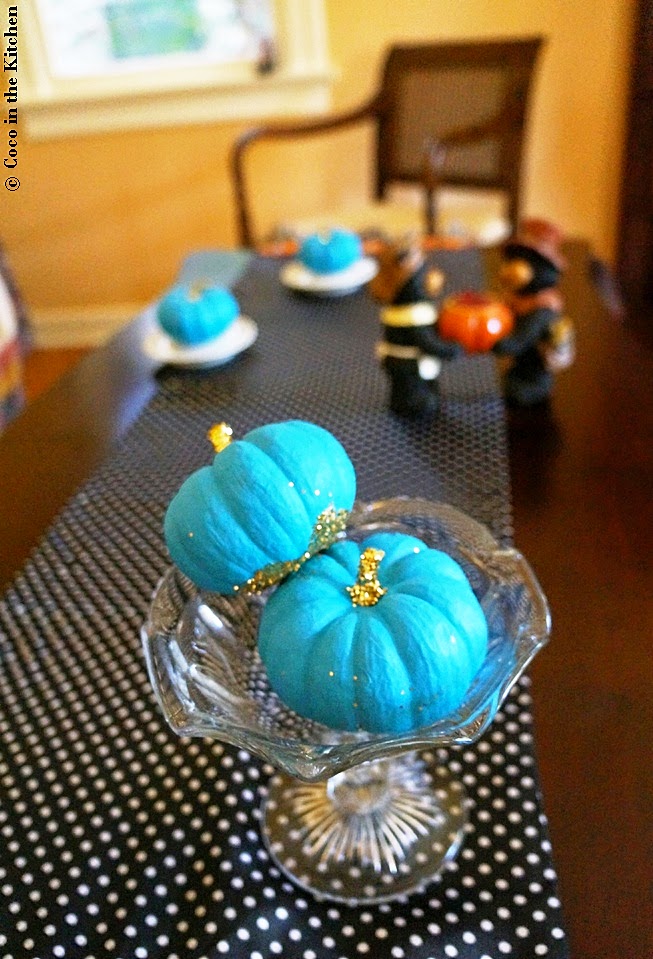 Maybe the paint seems not-so-appetizing? Or the freaky colors and sparkly glitter made them look like aliens?
Whatever the case, the kids had a blast painting them.
All it took was:
-Pumpkins
-Brushes
-Nontoxic acrylic paints
-Newspaper
-Elmer's Glue
-Glitter
Then, we let the kids loose. They mixed up the colours, painted over paint. Daisy got a bit carried away and even painted her arm!
After the paint dried, the kids brushed glue over the stems and sprinkled glitter over the glue. The pumpkins looked sparkly and magical. Oh   SO   pre-tty.
Despite the stink and the insomnia, Fall is still my favourite season, because it marks the beginning of the holidays.
And the sooner it begins, the better.
Daisy is just starting to get the idea behind Halloween: Wear a costume, get candy.
That is motivation right there.
She would be willing to go out as a thorny, fire-breathing dragon if she knew there was chocolate in it for her.
This year, she dressed up as a dolly little swashbuckling pirate and collected quite the bounty of goodies.
Then, back at home, she had a blast running to the ring of the doorbell and giving away candy, handfuls at a time.
We always have a ton of candy. Anything to avoid seeing disappointment on cute kiddie faces, right?
And, we get the good stuff – MMs, Snickers, Reese's. None of that no-name brand hard candy with the faded wrappers. This time, we got a boatload of Sunkist fruit gummies, Dad's favourite. There were no leftovers!
It made me a bit sad that Halloween was over, just when Daisy had discovered how much fun it is. I did not want it to end, either.
She is still going around, wishing everyone a hearty Ha-ppy Halloweeeen! She wants to wear her costume and go trick-treating again. How do you explain to a 2-year-old that she has to wait a year to have fun again?
So, since we still had plenty of real pumpkins around the house, I put my little artiste to work again with some acrylic paint and gold glitter.
Daisy just loves painting. In fact, it is the only thing that will get her to sit still for more than 2 minutes (other than watching Pingu, Diego or Thomas). And, I love watching her focus. She looks so happy and relaxed, concentrating very seriously on creating something.
She grips the paint brush in such stylish ways, dabs a bit of this colour, then orders me to get her more of some other colour or rotate her pumpkin for her.  Of course, I am at her beckon call, whatever my bitty artist needs. I could sit there forever, not even notice the time passing.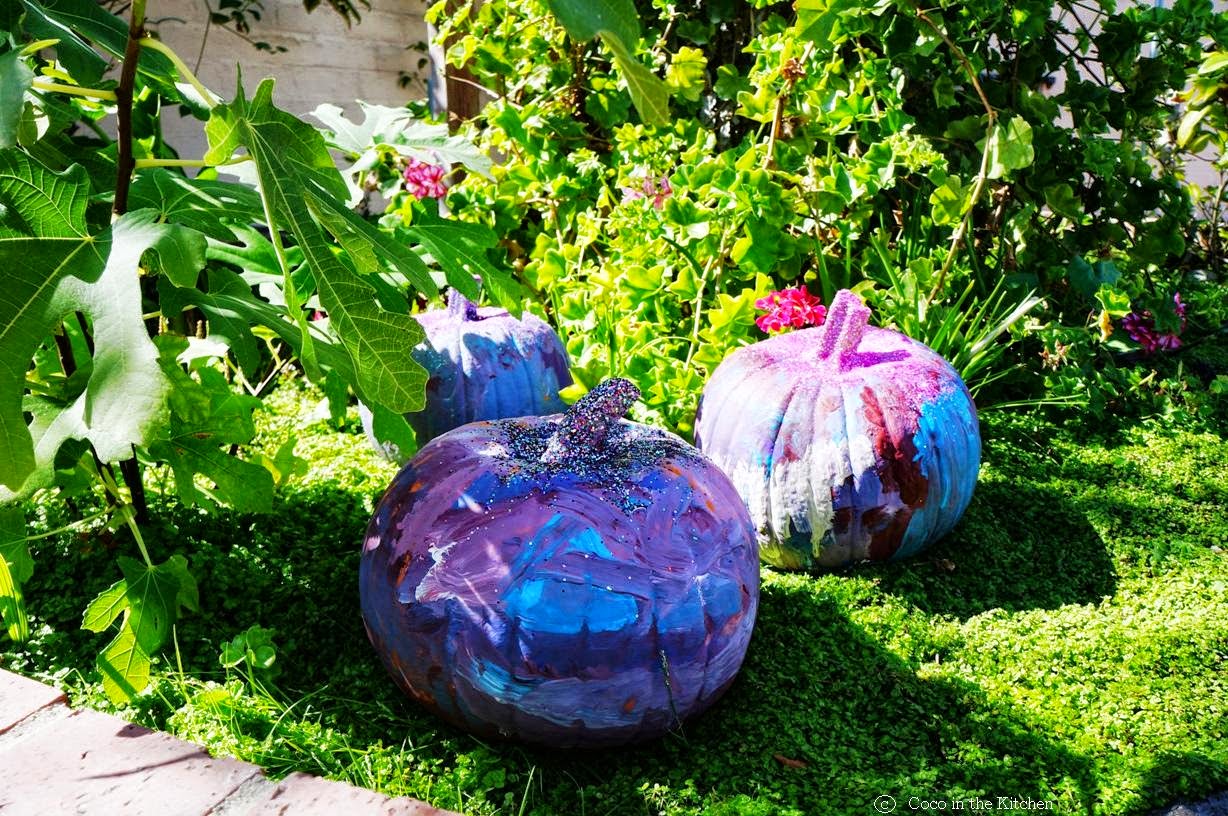 We stuck with just one color, something elegant, a classic Tiffany blue. The mix of colors is not typical of Autumn decorations in the West, but actually a classic in Middle Eastern jewelry design. Why not break from tradition? Daisy kicked it into high-gear with the glitter and added some bling to the bottoms of the pumpkins.
They turned out to be the cutest, most sparkly decorations ever. Hopefully, they will make it long enough to add some sparkle to the Thanksgiving table.
Grab the kids and make your own decorations. Pumpkins are on the cheap now and the rest of the supplies are available at local craft stores, maybe even in the supermarket stationary aisle.
Fall is still here and there is plenty left to celebrate. Even dinner on Ordinary Tuesday deserves a bedazzling touch.