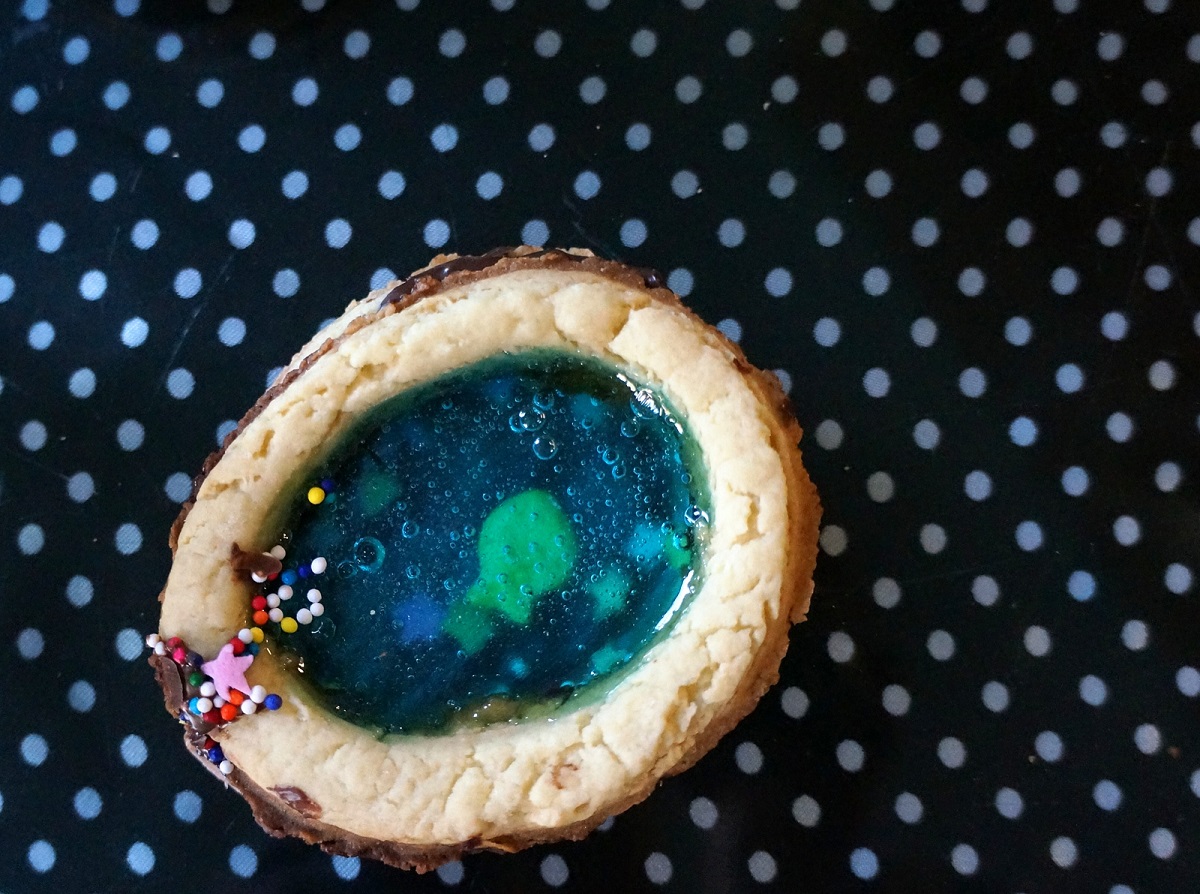 Having children means you're going to "need" pets, oh, all sorts of feathered, scaled, furry, slimy organisms. Young ones will say anything to get you to agree, promise to feed them, entertain them, and, even pick up their poop, all of which Mommy and Daddy actually end up doing.
Over the years, we have accumulated a few critters of our own. One parrot, then two dogs and then, we got a betta fish, named him Mr. Fishylegs. Before long, there were tai-chi master crabs, ghost shrimp, various snails whose demise we mourned, even glow-fish. More recently, we have advanced to salt water life.
Now, we have 3 tanks which keep Shawn quite busy, testing the water for impurities, controlling algae growth, doing everything he can to keep the water-folk happy and healthy. As for me, the closest I'll get to keeping fish is baking super-cute Aquarium Cookies! Delicious shortbread is cut into O's, the centers filled with molten candy that hardens to a bubbly edible glass, then two are sandwiched together with chocolate with a surprise inside of pretty sprinkles and fish-shaped candies!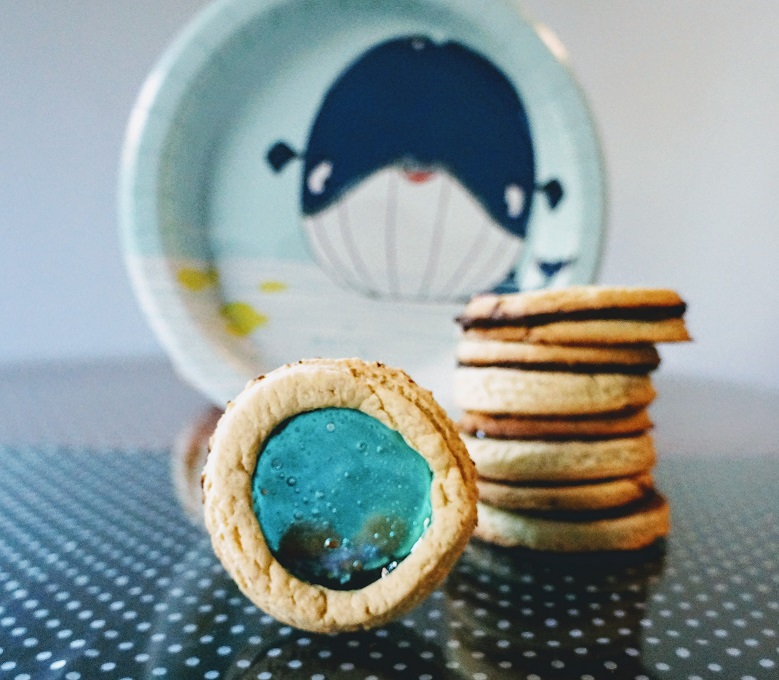 Form vs Function
We have an impressive stockpile of cookie cutters. Every shape and size, even some unusual ones like ninja gingerbread men, penguin, mini gingerbread house, even a heart-shaped one with a notch to set it onto the rim of a coffee mug. But, round cookie cutters, we have not. Daisy found this quite ridiculous and she was right, but I showed her how to improvise with various drinking glasses and empty jam jars. As long as the dough is cut in O's of approximately the same size, you can make it work.
This isn't an exact science, folks. The goal here is to keep the little ones unplugged from electronics and have fun together. Making aquarium cookies takes some time, but that's exactly what you want, to slow down that clock and just indulge in creating something sweet with the kiddos.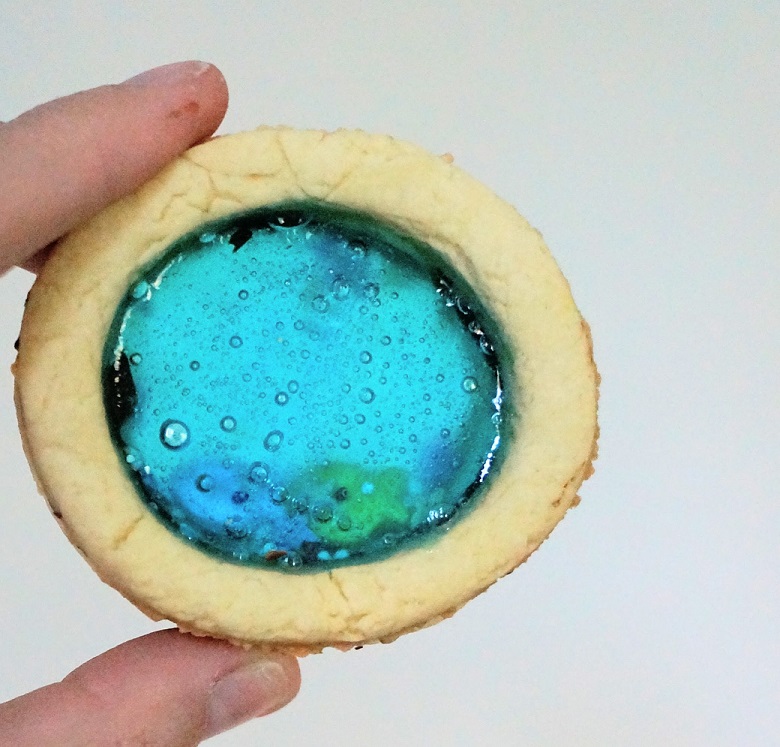 Aquarium Cookies
Note: This recipe requires 2-inch and 3-inch cookie cutters, but, if you don't have those, just use 2 drinking glasses of different sizes. 
Makes: 2 dozen
Prep: 10 mins
Chill: 30 mins
Oven: 350 *F
Bake: 10 + 5 mins
Ingredients
1 stick butter, soft
1 cup sugar
2 free-range eggs, @ room temp
4 cups flour
30-40 hard candies
fish-shaped candies (optional)
candy sprinkles
1/2 cup white chocolate, melted
Instructions
Line a cookie sheet with parchment paper.
Cream butter and sugar til incorporated. Do not overmix!
Add eggs, one at a time, mixing well after each addition.
Sift flour over the bowl and fold gently by hand.
Wrap dough in plastic and chill at least 30 mins.
Preheat oven to 350 *F.
Dust a clean surface with flour.
Roll dough out to 1/4-inch thickness.
Use a 3-inch round cookie cutter, cut circles into the dough.
Use the smaller cutter (2″) to cut out the center of each round.
Arrange cookies "O's" onto the baking sheet.
Bake 10 mins.
Meanwhile, unwrap candies and collect in a sandwich bag.
Use the rolling pin to smash them to small bits!
Take baking sheet out of the oven.
Sprinkle enough candy dust to cover the center of each cookie.
Return them to the oven and bake another 3-5 mins.
The candy should melt, spread out and bubble slightly.
Remove from the oven and cool completely.
Melt chocolate in 15-second bursts in the microwave.
Drop sprinkles and fish candies into the center of one cookie.
Use a spoon to paint chocolate along the edges of another cookie and sandwich the 2 cookies together.
Repeat with the rest of the cookies.
Chill 15 mins in the fridge to harden the chocolate.
Watch the Magic Happen
The hard candy liquifies in the oven and spreads toward the inner edges of the cookies. Cute little bubbles form that mimic underwater air pockets. You don't have to get fish-shaped candies, sprinkles look cute, but if you want something extra special, go with the fish. They taste pretty good, too, kinda like Pez. Little cracks can be disguised under a bit of molten chocolate and sprinkles. There's no way to mess up these adorable and delicious Aquarium Cookies and a fun time is guaranteed for all!