Apple Butter Pecan Streusel Sour Cream Coffee Cake with Orange Maple Drizzle is a mouthful, but it tells you everything you need to know about this old fashioned dessert.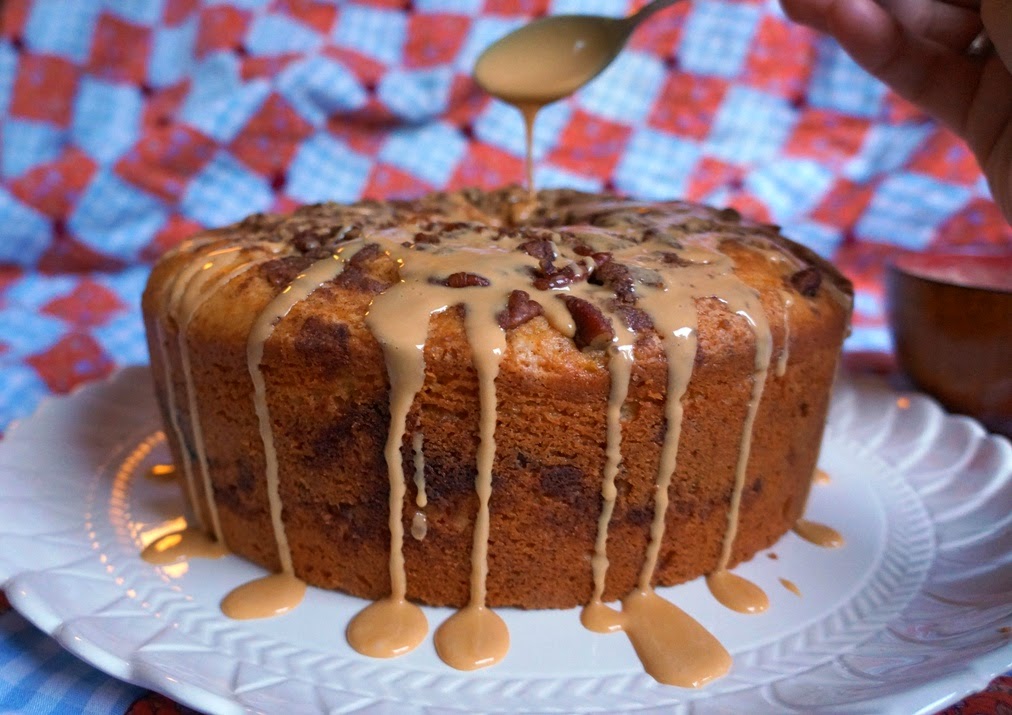 A slice of cake is a dazzling sight, almost as beautiful as a classic piece of artwork featured in a posh gallery. Unfortunately, the scale was yelling obscenities at me this morning. Then, someone brought a crumb cake to the office today. And a slice was delivered to me. I did not even have to leave my desk. That slice sat next to my computer, whistling and winking at me all day. The aroma of cinnamon and butter was UNbearable. I kept looking at the clock, the words "Girl, pace yourself." circling in my head. When was it going to be 2 o'clock? You see, 2pm is the unofficial time at the office when a few of us brew a fresh pot of coffee for an afternoon wake-me-up. Coffee is my ticket to cake. Those who know me will tell you that my coffee always needs a companion, preferably a crumbly, buttery, nutty, sweet ol' thang.
Despite the verbal abuse I endured from the bathroom scale, I set on a mission to crack the recipe for that crumb cake. Each prototype was received with rave reviews and requests for encores. Now, my version is top-notch. The sour cream coffee cake is delightful on its own, but here it functions as a vehicle for delivering cinnamon, brown sugar, apples, pecans and caramel. What's more is that if you wrap this little sweetheart in shiny plastic tied with a pretty bow, you will be very well received at any holiday party.
Apple Butter Pecan Streusel Sour Cream Coffee Cake with Orange Maple Drizzle: This has to be the longest name for a cake in the history of baked goods. However, it is imperative that every descriptive detail be mentioned. When the craving for this crumb cake struck, there happened to be a big jar of homemade apple butter sitting next to a big jar of homemade pecan streusel in my fridge. (A good scout is always prepared, especially for baking emergencies.) The streusel recipe is quite conventional, but I winged it on the apple butter and put real butter into it, because everything is better with butter. No one will ever suspect the apple butter filling and the crispy, toasty pecan streusel became the irresistible crown. As if this cake is not fancy enough, a final touch with a luscious glaze kicks it up a notch or two. I remember as a kid, I was so disappointed to find out that there was no coffee in coffee cake. So, you know I threw some into mine!
Apple Butter Pecan Streusel Sour Cream Coffee Cake with Orange Maple Drizzle
Note: The apple butter and pecan streusel can be made ahead of time. There will be plenty for three of these cakes. Store them in glass jars in the fridge for when the craving strikes. The apple butter is a lovely change from the usual jam at breakfast. 

There is certainly no shortage of cake pans at our house. I have several nice Nordicware Bundt pans as well as a trusty, old aluminum sponge cake pan (aka tube pan). Those all work well for this cake.
Ingredients
Apple Butter
3 Granny Smith apples
1/2 stick butter
1/2 cup brown sugar
2 Tb cinnamon
1 tsp cloves
splash of spiced rum
splash of amaretto
pinch of salt
Streusel
2 cups all purpose flour
Cake
1 1/2 sticks butter, @ room temp
3 free-range eggs, @ room temp
1 cup sugar
2 tsp vanilla
zest of 1 orange (Cara Cara)
1 1/4 cups sour cream
1 Tb instant coffee
2 1/2 cups flour
2 tsp baking powder
1/2 tsp baking soda
pinch salt
Drizzle
1 1/2 cups powdered sugar
juice of 1 orange (Cara Cara)
3 Tb real maple syrup
1 knob butter
Instructions
Take 3 eggs and 1 1/2 sticks of butter out of fridge.
Set onto counter to warm to room temp.
Measure streusel ingredients into a clean bowl.
Heat butter until just melted and add to the bowl.
Stir to a sandy consistency.
Set aside.
Preheat oven to 350*F.
Butter and flour a 9-inch Bundt pan.
For the cake batter, cream softened butter and sugar together for 4 minutes.
Slowly incorporate eggs, one at a time.
Add sour cream, zest, vanilla and coffee. Mix well.
Sift flour, baking powder, baking soda and salt into another clean bowl.
Add to the batter and mix until just incorporated.
Pour 1/2 of the batter into cake pan.
Spoon about 8-10 tablespoons of the apple butter evenly over the center of the batter.
Cover with the rest of the batter.
Sprinkle about 10 tablespoons of the streusel on top.
Transfer to the oven and
bake for close to 1 hour.
Insert a toothpick in the center. If it comes out clean,
the cake is ready.
Remove from oven and allow it to rest 10 minutes before
inverting onto a metal rack to finish cooling.
In a small bowl, mix maple syrup with powdered sugar, orange juice and just a knob of softened butter.
Drizzle generously over cake and cover to keep the cake moist until ready to serve.
There is no denying the craving for a slice of this cinnamony, buttery apple cake. It tops any coffee cake you have ever tasted, except for Mom's apple cake. That would make stiff competition. I have already made this cake several times. My office mates already asked for repeats and today I baked one for the sweet Syrian family next door to us. As I walked to their house this morning to deliver the cake, the fragrance of cinnamon, apple and butter was intoxicating. The icing has set beautifully and I could just imagine it crumbling delicately under a sharp knife. Let's just hope I get invited over for tea tonight.