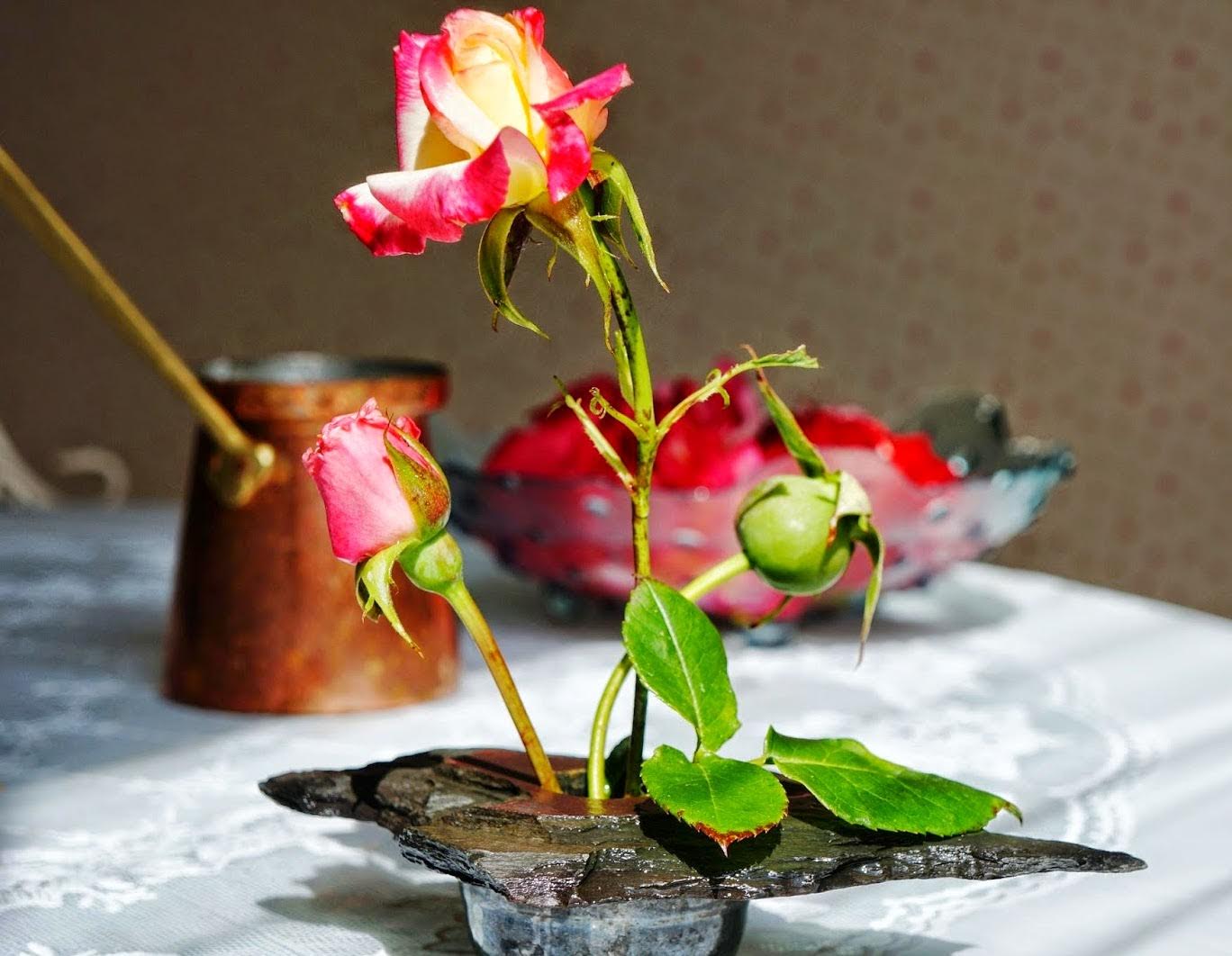 Fresh flowers bring a breathe of fresh air into any room, but are especially dramatic on the dining table. The tablecloth, if any, plates, napkins all disappear from view when there are beautiful flowers to behold. Setting a beautiful table doesn't have to be stressful. Mom always sets an elegant, but simple menu and layout. She has an eye for unique design ideas and inspires me to follow in her footsteps. Recently, however, I've been thinking about putting my own spin on things and getting somewhere like SALT Light & Electric to install new feature lighting over the centre of the table. I've seen some gorgeous examples where the table is lit beautifully by a couple of softly glowing lights, and it really makes the atmosphere feel so much more inviting. Plus, it's the perfect way to highlight our current floral centrepieces picked fresh from the garden.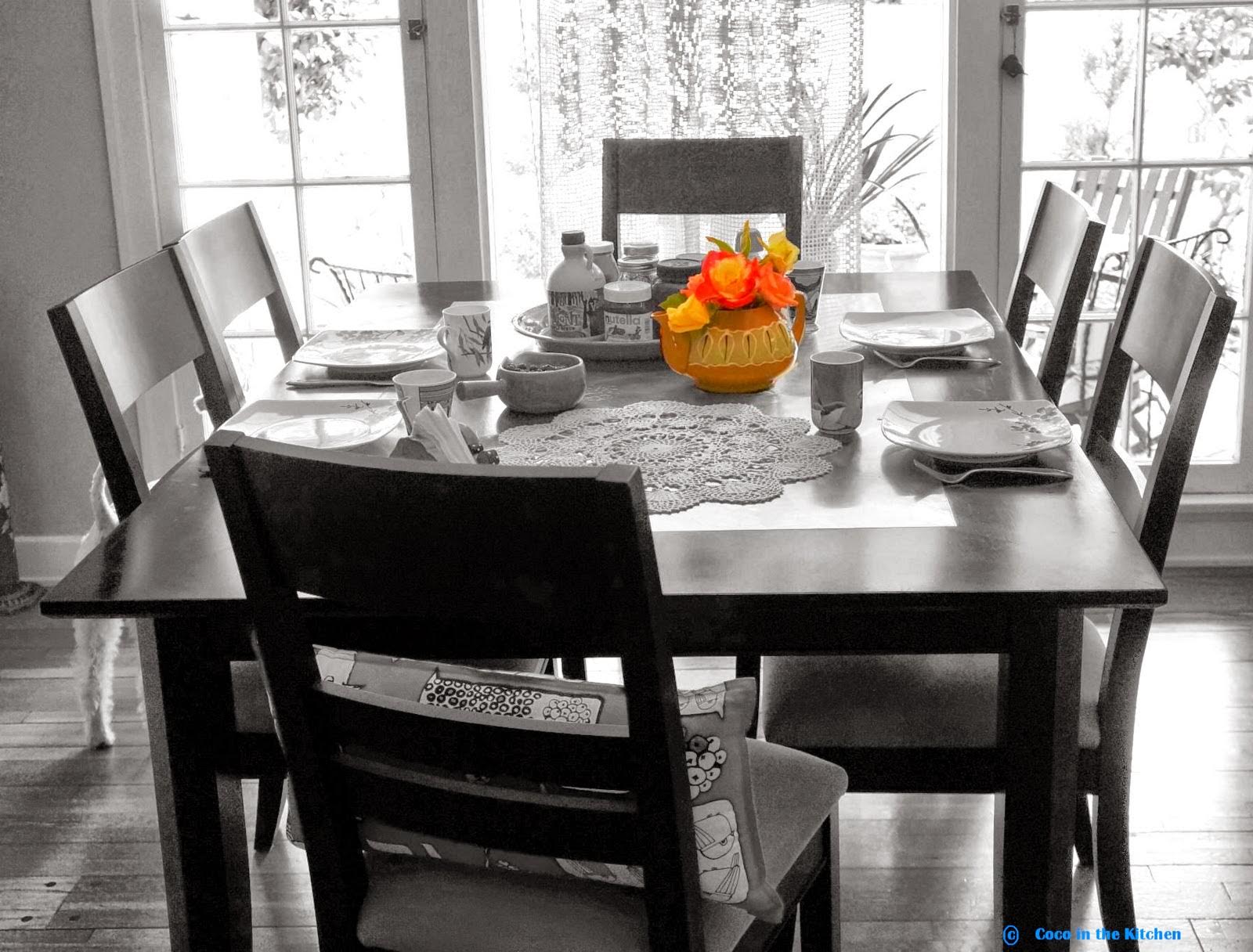 Our front garden is in full bloom now with pretty roses that smell so sweet. A few cuttings brighten up even the most casual breakfast table. An old teapot from our home in Tehran makes the perfect vessel for showcasing pretty blooms. We love entertaining and want our guests to feel comfortable to stay awhile. After all, they are what makes the meal truly memorable. Setting the table can be as much fun as cooking or baking.
Moreover, with the weather finally starting to improve, we have also been spending a lot more time entertaining in our garden. Consequently, it is about time that we invested in some new outdoor furniture. We have had the same table in our garden for a few years now, but I have seen a few different outdoor tables on the Remarkable website that have caught my eye. I absolutely adore shopping for outdoor furniture. There is something so special about spending time with your family and friends outdoors, this really is my favorite time of year.
Anyway, anyone with a toddler will tell you there's no sleeping in on the weekends. We're up before the roosters start crowing. The breakfast nook is the perfect hangout for some buttery toast and coffee. Entertainment is a sure thing, courtesy of the music industry's latest sensation, li'l Miss Daisy. But, once boredom strikes, she'll toss her ukulele aside, pull on her Hello Kitty boots and off we go, outside in our pajamas! I must admit, the pajamas is Daisy's idea. I'm not totally against them, but I think they should be kept to the bedroom. Daisy, on the other hand, is happiest when shes pottering around in her pajamas or her tiger onesie, which she says makes you extra fierce. There's no doubting that she would rather not get dressed at all most days.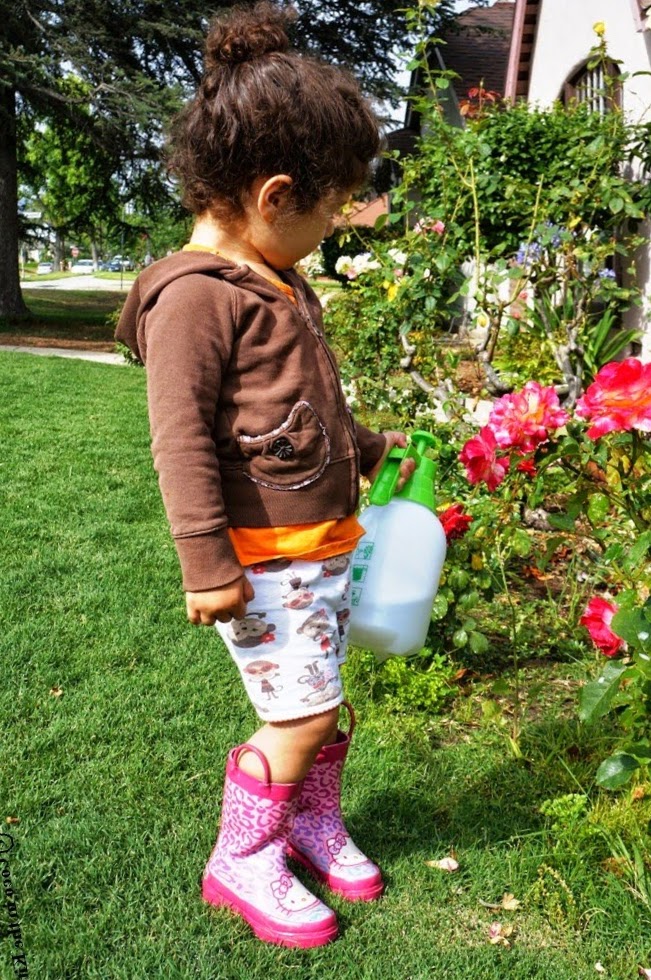 Armed with the spray bottle full of dish soap (kills the bugs), she tends to the roses right away. She takes her time and patiently covers each plant, the way Grandma taught her.
Every now and then, she'll stop, lean forward to smell one, something we should all remember to do.
Our neighbourhood's a very friendly place with lots of nice people walking by our house. They'll often stop for a chat and watch Daisy who's quite serious about tending to the pretty flowers.
Like most kids, Daisy loves to "he'p" with what seems blindingly boring to the rest of us.
She loves washing dishes (playing with water), baking pumpkin pie (stirring the batter) and gardening, her latest hobby. She loves flowers on the dining table and often picks out a bouquet when we're shopping at Trader Joe's.
Daisy does a great job putting them into various arrangements. Our resident ikebana master is always ready to create something interesting. She has so much fun with a few flowers, some water and an old teapot or salad bowl. Watching her little hands at work and anticipating what she'll create makes me so proud.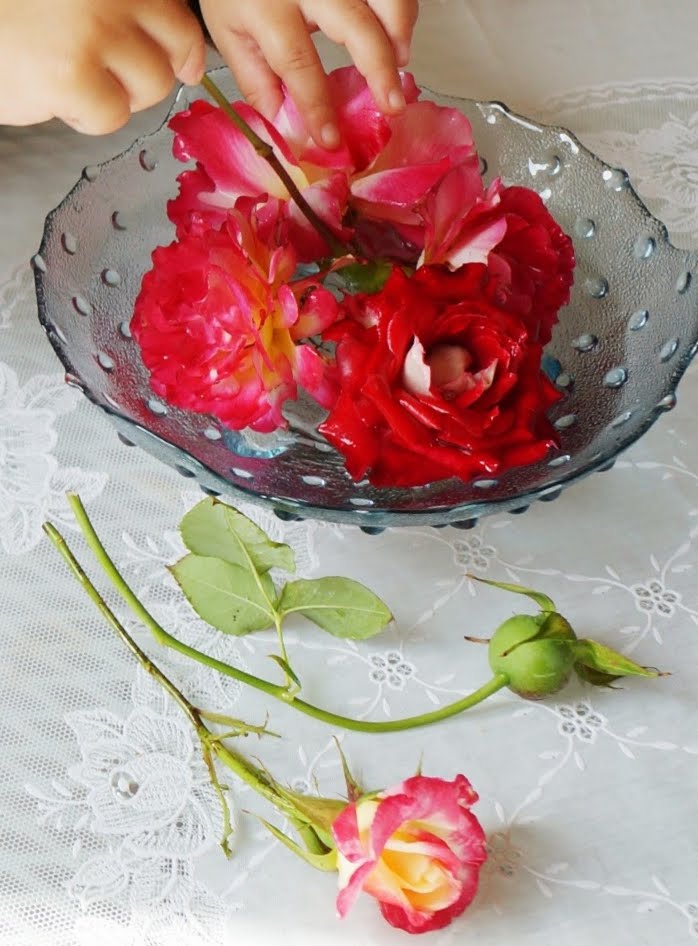 Whether casual or formal, the dinner table comes to life with fresh flowers. They're even more of a showcase if they happen to be hand-picked by the loveliest li'l member of the household. If you don't have a garden, you can always find seasonal flowers at the grocery or home improvement store.
Look for ideas at the supermarket. Chili peppers and apples can add Fall flavour to any flower arrangement. For something unexpected, line up a few fresh pineapples or artichokes in a row at the center of the table. Don't be afraid to accessorize the dinner table. Patterned paper napkins make everyday plates look new. Drop tealights into shot glasses to add a cozy flicker. The perfect meal isn't just about the food. Look around you and see what inspires you to set the scene.